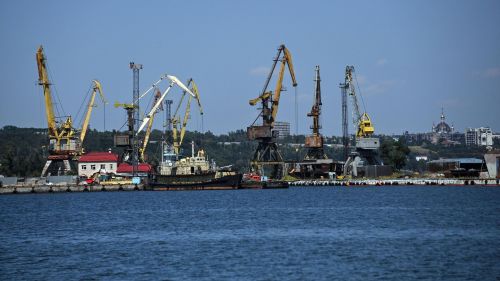 According to official information from the Russian Federal Agency for Maritime and River Transport (Rosmorrechflot), eight Russian vessels called at the port of occupied Mariupol in October 2023.
The declared volume of transshipment at the port during this period was 21,600 tons, including 3,500 tons of construction materials, the CFTS portal reports, citing Russian industry media.
According to the report, the cargo turnover in October exceeded the September figure by 7,000 tons or 33%.
In October, the Russian occupiers sent nine ships to the port of Berdiansk, which is three more than they sent in September. The port's cargo turnover was 26,700 tons last month. Most of this cargo was grain illegally taken from the occupied territories of Ukraine.
Rosmorrechflot also said it continues to install navigation equipment and plans to repair some port facilities and dredge the port.
It also cited information stating that 115,000 tons of cargo were handled in the port of Mariupol in January-October.
Earlier, Russia announced that the process of "acceptance" of the assets of the Berdiansk seaport was nearing completion.
As reported previously, the Russians are using both Ukrainian ports on the Sea of Azov to export goods (grain, metal products, coal, etc.) stolen from temporarily occupied Ukrainian territories, as well as for military purposes.