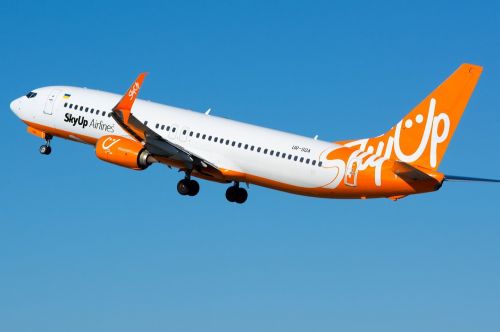 The SkyUp airline's aircraft transported over 1.08 million passengers and performed 7,713 flights in 2022.
The airline announced this in a statement, the CFTS portal reports.
SkyUp planes flew on 627 routes to 204 airports around the world in 2022.
"Thanks to the full tight schedule of flights from the beginning of 2022, 10 out of the 11 aircraft in our fleet were abroad when Ukraine's skies were closed on 24 February. Despite the temporary inability to fly to/from Ukraine, a significant change in the competitive conditions, and the different working conditions in new markets, we are continuing our operations and have not stopped since the beginning of the war," the airline said in the statement.
SkyUp launched flights under wet-leasing contracts and began performing charter flights for tourist operators based in Moldova and the Baltic States, the statement added.
According to the statement, the airline worked with 10 airlines, including Wizz Air, SmartWings, Freebird Airlines, Tailwind Airlines, and Corendon Airlines, under wet-leasing contracts in 2022.
"We began implementing charter programs from Lithuania, Latvia, and Estonia to Egypt, as well as charter flights from Poland to Egypt. We performed special flights on the Tel Aviv - Chisinau - Tel Aviv route for Hasidic pilgrims traveling to Uman to celebrate Rosh Hashanah," SkyUp said in the statement.
The airline added a new aircraft to its fleet in the summer, and it can now operate 11 aircraft.