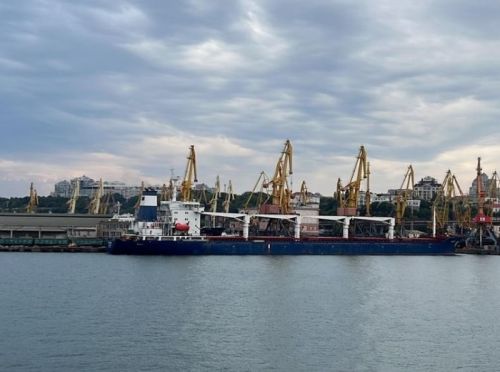 Today at 09:50 EET, for the first time since February 24, a ship loaded with Ukrainian agricultural products left Odesa port.
This is the RAZONI vessel, which is sailing under the flag of Sierra Leone to the port of Tripoli in Lebanon.
"It will move along a corridor, the safety of which has been confirmed by our guarantor partners - the UN and Turkey. It has 26,000 tons of Ukrainian corn on board. Ukraine is the 4th largest exporter of corn in the world, so the possibility of exporting it through the ports is a huge success for ensuring global food security. Unblocking the ports will provide at least $1 billion in foreign exchange earnings for the economy and an the opportunity for the agricultural sector to plan next year's sowing," said Minister of Infrastructure of Ukraine Oleksandr Kubrakov.
Kubrakov noted that, together with representatives of the UN and Turkey, internal operational regulations have already been worked out.
"In the ports of Great Odesa, 16 more ships are already waiting for their turn. These are the ships that have been blocked since the beginning of the full-scale invasion of Russia. In parallel, we will receive applications for the arrival of new ships to load agricultural products. In the coming weeks, with the support of our partners, we plan to reach full capacity capacity of transshipment of agricultural products," added the Minister of Infrastructure.