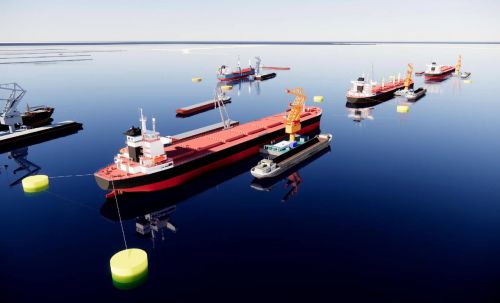 During a meeting in Constanta (Romania), which was attended by Ukraine, Romania, and representatives of the European Union and the United States, the Ukrainian Danube Shipping Company (UDP) called on the Constanta port authorities to grant permission to create a transshipment facility for Ukrainian grain in the roadstead of the port.
The UDP announced this in a statement, the CFTS portal reports.
According to the shipping company, Ukraine should export more than 5 million tons of agricultural products per month this year and next year, and the main burden will be on Danube logistics because other routes are too costly.
"Regarding the current volumes, approximately 1.2 million tons are exported monthly through the Sulina Canal and 1.3 million tons through the Romanian port of Constanta. Sixty percent of the grain export flow through Constanta is by river vessels. Caravans of barges deliver more than 700,000 tons of agricultural products to the Romanian port every month. If Constanta allows the development of transshipment in its roadstead, river transporters are ready to increase the volumes by an additional 500,000 tons," the UDP said.
The shipping company added that it has already created a project to establish three more anchorages, one of which should be assigned to Ukraine. According to the shipping company, the project does not threaten the owners of terminals because it is for handling the additional export flows from Ukraine that are currently not entering Constanta.
"If the Romanian side agrees, the UDP is ready to initiate the creation of a Ukrainian port operator in Constanta. The shipping company's fleet allows ship-to-ship transshipment of up to 300,000 tons of grain per month," the company added.
About 600 barges are currently in the port. Some of them have been waiting for weeks to unload their cargoes; therefore, the port is working only through the direct method of transshipment (ship-to-ship transshipment) this year.
"The Danube ports are mostly loading small sea vessels – coasters. That is 10,000-15,000 tons. Exports of such batches are intended for Turkey, Greece, and Egypt, but Ukraine's traditional markets are in Southeast Asia. Ukraine has to create large batches and load Panamax ships, but the only large vessels are only in Constanta. Each anchorage can facilitate the transshipment of 15,000-20,000 tons per day, which is an alternative to the ports of Odesa," the shipping company said.