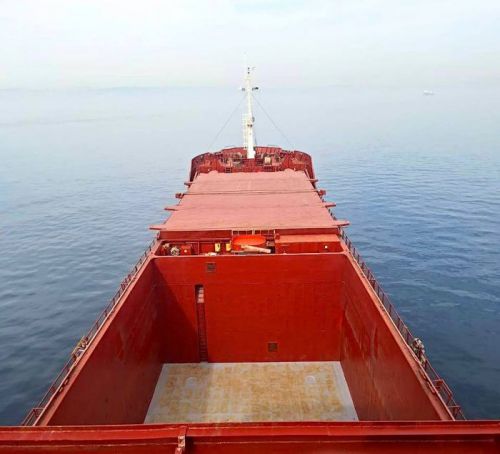 Ukrainian Danube Shipping Company (UDP) has completed all repairs to the bulk carrier Vilkovo, which was bareboat chartered to a private company for 10 years and recently returned to UDP. The bulk carrier has been tested, received the relevant documents from the Shipping Register, and is currently on its maiden voyage.
The Ukrainian Danube Shipping Company announced this in a statement, the CFTS portal reports.
"We have done a huge amount of work to overhaul the first returned vessel, the Vilkovo. We had to repair or replace almost everything on it. The main engine, the hull, the anchoring and mooring equipment, the ballast and drying system, and many other units, mechanisms, and systems. Significant investments have been made, but we have an almost new bulk carrier that will continue to operate for many years, generating considerable income and taxes for the state budget," the shipping company said.
The vessel has a length of 88 meters, a width of 15.5 meters, and a displacement of 5,742 tons.
The UDP also reported that it had finally regained control of the Izmail the day before. This vessel was also bareboat chartered over 10 years ago.
Earlier, the company regained control of the Reni vessel. This means that the UDP can now operate all three of its river and sea vessels. However, the last two still need repairs.
The Izmail-type bulk carriers are a series of 6 vessels (Izmail, Vilkovo, Reni, Tatarbunary, Kiliia, and Viana do Castelo). They were built for the UDP at the Viana do Castelo shipyard in Portugal in the early 1990s.
They are universal dry cargo vessels designed to carry general and bulk cargoes of various types, grains, and containers. The vessels do not have any restrictions, but they are designed with the specific conditions of the Danube in mind. They have low draught and are suitable for river and sea transportation.
"The three vessels (or what is left of them) have been laid up for a long time, and their restoration is almost impossible. The three vessels were bareboat chartered by our predecessors, and they have finally been returned," the UDP said.