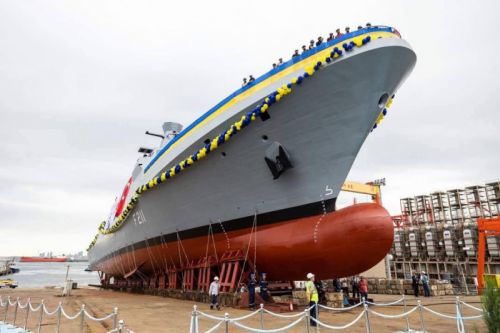 The first Ada-class corvette to be built for the Ukrainian Navy was launched in Turkey on 2 October.
The Ukrainian Navy announced this in a statement, the CFTS portal reports.
The launch ceremony of the first Ada MILGEM corvette that is being built to the order from the Ukrainian Navy took place at the Istanbul Naval Shipyard in Istanbul.
The Ukrainian Navy's Commander, Vice Admiral Oleksii Neizhpapa, took part in the launch ceremony of the corvette, which is named "Hetman Ivan Mazepa."
"The event, which is extremely important for Ukraine and its Naval Forces, once again proves that we have a great friend in the Republic of Turkey at a time of a decisive war for our independence and territorial integrity. Our cooperation gains another dimension: a corvette that will soon defend Ukraine; free shipping, which is definitely a common goal for our countries," Neizhpapa said.
As reported earlier, within the framework of the bilateral military cooperation between Ukraine and Turkey, Ukraine received an updated version of the Bayraktar TB2 reconnaissance and attack drone with an increased range from Turkey in July last year and the keel of the future corvette was laid in September.