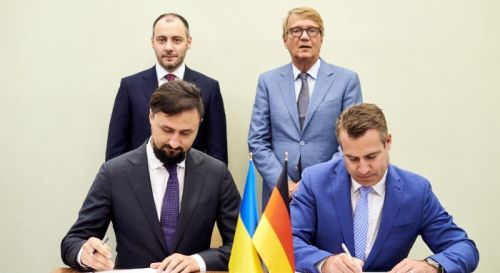 The Ukrainian Railways joint-stock company (Ukrzaliznytsia) and Deutsche Bahn Engineering & Consulting have signed an agreement on provision of consulting services in the area of passenger transportation. The agreement is aimed at improving the planning and development of passenger rail transportation, optimizing purchasing, and upgrading rolling stock.
As the CFTS portal reported, citing information from the Ministry of Infrastructure, Deutsche Bahn will help Ukrzaliznytsia to separate passenger transportation from freight transportation and ensure effective management. The provision of the consulting service is the first stage of a cooperation program that will be implemented until the end of 2021. If the first stage is implemented successfully, the second stage will be introduced. In the second stage, Ukrzaliznytsia will invite a team of managers from Deutsche Bahn to manage passenger transportation in 2022.
"Transfer of the management of Ukrzaliznytsia's passenger transport operations to DB Consulting will be the first systematic step towards complete transformation of rail transport in Ukraine... We are striving for German quality on the Ukrainian rail transport market," Ukraine's Minister of Infrastructure Oleksandr Kubrakov said, commenting on the signing of the agreement.
"I am confident that transfer of the management of passenger transport processes to Deutsche Bahn will yield the fastest possible results. The contract that was signed today is the first stage of cooperation and we expect to move on to the next stage at the beginning of 2022, when a team of German managers will be placed in charge of operational management of passenger transportation Ukraine," said Ronald Pofalla, DB board member for Infrastructure.
According to the Ukrainian Ministry of Infrastructure, Deutsche Bahn Engineering & Consulting will develop a roadmap for implementation of long-distance and suburban passenger transportation for the next five years, as well as a model for financing passenger transportation.
In addition, Deutsche Bahn Engineering & Consulting's experts will determine the volumes of transportation and estimate Ukrzaliznytsia's need for capital investment to upgrade its rolling stock for public transportation under Public Service Obligation (PSO). The service provider will also assess the prospects for purchase and production of passenger rolling stock (regional electric trains, diesel trains, and night train cars) and the possibility of manufacturing such rolling stock by a Ukrainian manufacturer within the framework of international cooperation.
As reported earlier, Ukrzaliznytsia signed an agreement on provision of consulting services involving development of an energy management strategy with DB Engineering & Consulting in August. German consultants will formulate an energy-efficiency investment plan for Ukrzaliznytsia in accordance with its commitments within the framework of its cooperation with the European Bank for Reconstruction and Development on the project for electrification of the Dolynska-Mykolaiv-Kolosivka railway line.