President of Ukraine Volodymyr Zelenskyi met with Sultan Ahmed bin Sulayem, the chief executive officer of the DP World Group, one of the world's largest port operators, during his official visit to the United Arab Emirates.
According to information from the Office of the President of Ukraine, Zelenskyi noted during the meeting that laws on concessions and "investment nannies" have been adopted in Ukraine, the CFTS portal reports. According to the president of Ukraine, this will motivate foreign investors to come to Ukraine, particularly to invest in the Ukrainian port industry.
Zelenskyi said that he liked the idea of ​​building a modern marina and a hotel in the Odesa seaport and that the Ukrainian government was ready to facilitate implementation of the project in every possible way and act quickly on it.
"Therefore, we invite DP World to enter deeper into the Ukrainian market through such concession projects. We have four more ports into which the company can enter. Second, build a marina jointly with a company that engages in similar projects," the president said.
Zelenskyi also noted that the Ukrainian parliament has adopted the long-awaited Law on Inland Waterway Transport and asked the management of DP World to consider the possibility of developing river transportation of goods in Ukraine.
The CEO of DP World noted that the company already has extensive experience in the development of river transport in other countries, which is indeed the cheapest mode of transport.
Meanwhile, photographs published by the Office of the President of Ukraine indicate that DP World is interested in investing in the Pivdennyi seaport, the largest seaport in Ukraine. According to a slide, it is proposed to create several terminals for transshipment of general cargo, timber, minerals, and bulk cargo on the territory of the Pivdennyi seaport. As can be seen on a slide of the master plan, the Emirati operator would like to build terminals for transshipment of liquid cargo, grain, and ro-ro on the opposite bank of the Adjalyk estuary.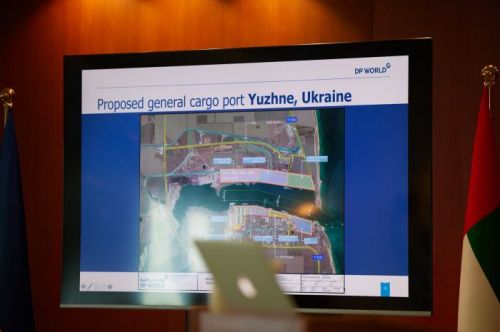 As the CFTS portal reported, the Ukrainian Ministry of infrastructure announced in 2019 that the package of documents necessary for the concession of the Pivdennyi seaport would be ready in 2020. Minister of Infrastructure Vladyslav Kryklyi said in September 2020 that concession of the Pivdennyi seaport was being planned after completion of the concession of the Black Sea ferry crossing and the Berdiansk, Izmail, and Chornomorsk seaports.