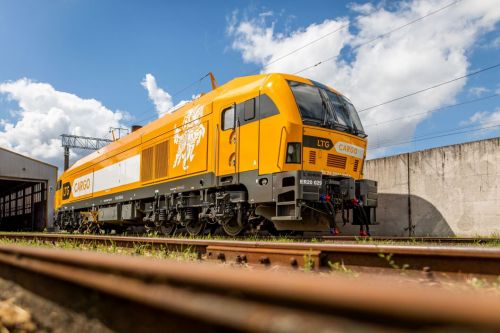 In the summer of 2020, the Lithuanian freight railway company LTG Cargo began a new chapter in its history. The state carrier received not only a new name (LTG Cargo instead of LG Cargo), but also a new strategy. One of the points of the document was foreign expansion. "We aim to boldly enter European markets and compete with the really big, world-famous brands that await us there. Therefore, non-standard thinking and constant search for new solutions are necessary in order to create as many benefits as possible for Lithuania", said Egidijus Lazauskas, CEO of LTG Cargo, during the presentation of the new brand and strategy. At the same time, the Lithuanian company founded a subsidiary in Poland, and six months later entered the Ukrainian market.
In January 2022, Eglė Šimė became the new chairwoman of LTG Cargo. Like her predecessor, she was forced to look for new solutions for the company, but in more difficult conditions. At the end of February 2022, Russia, with the support of Belarus, attacked Ukraine. Lithuania, bordering both aggressors, unquestioningly supported Ukraine and introduced appropriate sanctions against the two neighbouring states, even despite the negative consequences for its economy. LTG Cargo as a national carrier was also negatively affected by Russian aggression.
According to a preliminary estimation, the company expected to lose at least half of the cargo flow, which in 2021 amounted to more than 51 million tonnes. "Last year was difficult, but the results were better than we predicted," says Eglė Šimė. According to the 2022 results, LTG Cargo reduced the freight volume by almost 40%. How did the Lithuanian company manage to achieve this, what did it have to sacrifice and what are its plans for the coming years, including in Poland and Ukraine – these and other issues are discussed by CEO of LTG Cargo, Eglė Šimė, in an interview with the CFTS.
The 2022 year went down in history as the beginning of Russia's full-scale aggression against Ukraine. This event changed Europe. What impact did it have on the activities of LTG Cargo?
First of all, I want to say that we, together with the entire LTG Group, unequivocally condemn the military actions of Russia and Belarus against Ukraine, carefully comply with the requirements of sanctions and consistently implement a set of actions to reduce links with Russia and Belarus. Although Russia's war in Ukraine and the impact of sanctions on operations have resulted in significant loss of freight, we have taken steps from the beginning to help both us and our customers to adapt to the new reality.
If we talk about numbers, LTG Cargo moved about 31 million tonnes of cargo in 2022. This is 4.5 million tonnes more than we had planned after assessing the initial impact of the Russian war in Ukraine on operations.
What cargo did the company transport the most last year?
In 2022, LTG Cargo transported the most oil and oil products – a total of 9.6 million tonnes, which is 0.2 million tonnes more than in 2021. We also actively transported various construction materials (5.2 million tonnes), fertilisers (3.8 million tonnes), as well as agricultural products (3.7 million tonnes), which is 0.1 million tonnes more than the previous year.
The largest amount of cargo was transported by rail to Klaipėda seaport (10.7 million tonnes). Higher than planned volumes of local transportation were recorded in 2022. About 6.4 million tonnes of cargo were transported in Lithuania. In comparison, local transportation in 2021 amounted to 5.8 million tonnes.
How did you manage to mitigate the drop in freight traffic?
In 2022, we started implementing a plan aimed at increasing operational efficiency, reducing incurred costs and continuing diversification of operations towards the West. In general, the past year was a year of active diversification for our company. We started transporting intermodal cargo to Duisburg in Germany, we paid more attention to the re-planning of flows in Lithuania and strengthened both cooperation with Ukraine and the activities of our subsidiary LTG Cargo Ukraine, as well as actively expanding in Poland and other Western countries.
Was it difficult to diversify the company's activities?
Adapting to a changed market requires long-term and consistent work by the entire team. This period taught us all to think and strategise in shorter terms, in some sense, to even put aside the idea of long-term plans carved in stone, so to speak. To adapt and find new ways of operating, we have learned to react and plan with speed and agility; also, to make daring difficult decisions.
What difficult decisions are you talking about?
In the case of a drastic reduction in business volumes, we, as well as LTG Group, had to make decisions to improve operational efficiency and reduce costs. First of all, decisions were made on strict control of operating costs and postponement of some investment projects. Only then the consultations regarding the composition of the team had begun. Specific decisions affecting our employees have been clarified through consultation with employee representatives.
During this process, we had to go through the painful decision to lay off up to 800 employees. We have made great efforts to help employees who are threatened with layoffs to adapt to the new realities. With LTG Group, we have organised an aid kit for employees, namely we have held retraining consultations with social partners, attracted new potential employers and openly communicated the changes to all our employees.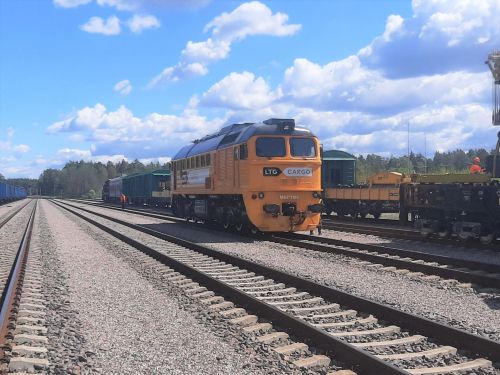 Let's take a closer look at the activities of LTG Cargo in Ukraine. What results were achieved in this direction?
We continue to do everything possible to provide support to Ukraine and Ukrainian customers. We are already transporting grain, sunflower oil, corn, and crude oil between our countries through Poland. Grain is transported in containers through the railway border crossings Mostyska-2/Medyka, Yahodyn/Dorohusk and Trakiszki/Šeštokai to the Klaipėda seaport, and oil is transported from the Mockava station to Ukraine. To this end, already in June of last year, we partially resumed the operations of our subsidiary LTG Cargo Ukraine, which again provides forwarding services. At the end of 2022, LTG Cargo Ukraine also became an operator of freight transport between Lithuania and Ukraine and started cooperation with the Polish company PKP Cargo.
How much agricultural products from Ukraine were moved through Poland to Lithuania?
Last year, we transported 84,000 tonnes of agricultural products from Ukraine to the Klaipeda seaport through Poland, and we transported another 120,000 tonnes of oil to Ukraine, also through Poland.
Before the war, the Viking container train ran between Ukraine and Lithuania via Belarus. What happened to it after the Russian invasion?
Due to Russia's war in Ukraine, the "Viking" container train was suspended. We are currently seeking to redirect cargo flows from Ukraine through Poland.
What other projects does LTG Cargo plan to implement in Ukraine?
We are also working on additional projects, for example, a freight connection from Kaunas to Medyka without replacing wagons. We also managed to transport 25 hoppers from Ukraine to Lithuania and we intend to further develop this project as a service for our customers. This year we will also work on the possible expansion of cooperation between Ukraine and Lithuania. We are updating our strategy and intend to strengthen our position in Ukraine by expanding our services. We hope to continue to assist in the transportation of Ukrainian cargo to the Klaipėda Seaport and support this route as an alternative for Ukrainian customers who are also seeking diversification. Moreover, we intend to start offering carriage rental services. To this end, we have already started planning a new route for intermodal transportation from Ukraine to Lithuania.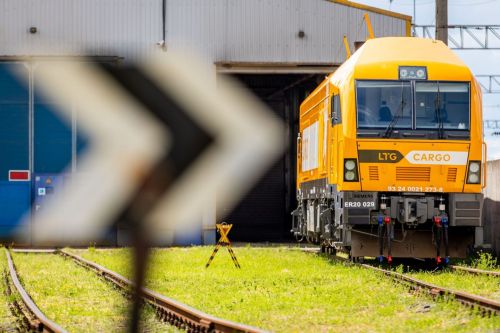 Transportation of goods from Ukraine to Lithuania is impossible without transit through Poland. How does the company work on the Polish market?
Expansion in Poland is one of the key tasks for us. Together with LTG Cargo Polska, we have already started to provide cargo transportation services between different parts of Poland, not only in transit through it. Last year, our Polish company started operating regular weekly trains on a new route from Sławków to Gdańsk, as well as providing cargo transportation services for one of the largest Polish poultry producers, Cedrob.
We ended the year by starting to transport coal from the Klaipeda seaport to Poland. Over the past year, the team of LTG Cargo Polska has grown fivefold to 90 employees. In 2022, LTG Cargo Polska managed to transport various types of cargo in 583 trains, 208 of which crossed the Polish-Lithuanian border on European tracks.
Which European markets, besides Poland, are priority for LTG Cargo?
First of all, this is Germany. Our regular route from Kaunas Intermodal Terminal in Lithuania to Duisburg in Germany started this year and it is already a success. As of the end of last year, we already operate four trains a week. We consider this route as the basis of our international activities, that is, we plan to create new routes around it.
One of the promising destinations for new trains is Italy. We also see potential to expand our operations to the UK, the Netherlands and other countries. On the other hand, we see great potential in upgrading the Amber Train route, which would connect Estonia, Latvia and Lithuania for rail freight transportation.
What are the company's plans for 2023?
This year we plan to continue the work we have already started. We will focus on providing competitive services to Lithuanian customers, develop new routes to the countries of Western Europe and, together with LTG Cargo Polska, we will increase the freight volumes in Poland. Currently, we have about 200 locomotives in Lithuania and Poland. To achieve our diversification goals, we will continue to expand our fleet, especially for the European gauge. Diversification will remain our strategic goal for the coming years.