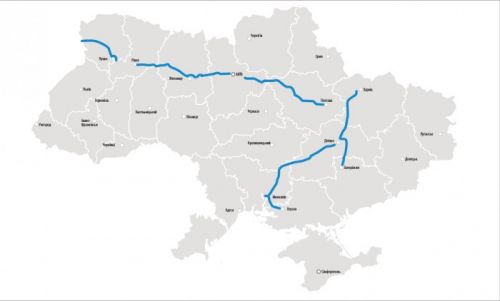 The plans of the State Automobile Road Service (Ukravtodor) for 2021 include repair and construction of 6,800 kilometers of roads of national importance, as well as introduction of a public-private partnership (PPP) model in the road sector.
Ukravtodor's head Oleksandr Kubrakov announced this during the presentation of the first public-private partnership program in the road industry, the CFTS portal reports.
"In 2020, the road sector has become a state priority. Plans for 2021 include repair and construction of 6,800 kilometers of roads. The main sources of funding are the Road Fund, funds raised under state guarantee, and loans from international financial institutions. The fourth source of funding next year could be public-private partnership projects," said Kubrakov.
As previously reported, the first six public-private partnership projects in the road sector have been prepared:
- a section of the M-03 highway from Boryspil to Poltava;
- a section of the M-06 highway from Kyiv to Rivne;
- a route from Dnipro to Kryvyi Rih and Mykolaiv (М-04, Н-11);
- the Yahodyn-Kovel-Lutsk route (M-07, M-19);
- the Kharkiv-Dnipro-Zaporizhia route (M-29, M-04, M-18);
- a section of the M-14 highway from Kherson to Mykolaiv.
They have a total length of 1,398 kilometers. The total investment is about USD 1.5-2 million.
The feasibility studies for these projects will be prepared by the spring of next year, a decision has been made to prepare for tenders, draft agreements on public-private partnership will be prepared in the spring-summer period of 2021, and the first tenders are expected to be announced in the autumn of 2021.
"PPP is not about toll roads, but about 'installment roads,' in which the state attracts private investment in construction and the investor implements the project with his own money and receives payments from the state after the road is put into operation. This is beneficial to everyone," Minister of Infrastructure Vladyslav Kryklyi said.