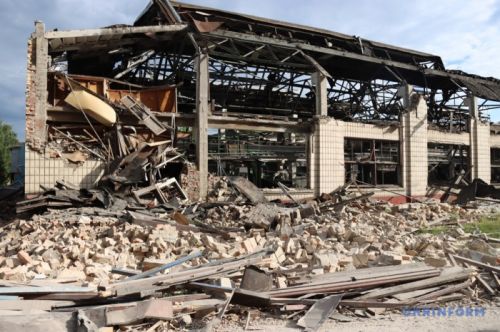 The Darnytsia Railcar Repair Plant (Kyiv) lost three shops as a result of a Russian missile attack on 5 June, but efforts are being made to resume the repair and production of railcars at the plant in cooperation with other enterprises in the industry.
This was announced by Yevhen Shramko, a board member of the Ukrainian Railways joint-stock company (Ukrzaliznytsia), the CFTS portal reports, citing the Ukrinform news agency.
"We have three shops that have been completely destroyed and cannot be rebuilt. Their destruction has broken the entire technological chain. Therefore, we will establish cooperation with other Ukrzaliznytsia enterprises to resume the repair and production of railcars here," Shramko said.
He stressed that it was impossible to provide specific figures about the Darnytsia Railcar Repair Plant's losses because it was too early to assess the losses.
"First, it will be necessary to pause to clear the remains of missiles and explosives from the plant. Then, we will begin clearing the debris. The problem is not only how much damage we sustained: even if we lose one shop, its loss breaks the entire production chain. Therefore, the products of these shops will be replaced through cooperation with other enterprises to enable the plant to resume operation as soon as possible and allow people to work," Shramko said.
Shramko noted that Russia attacks Ukraine's railway infrastructure almost every other day. Therefore, according to him, the company considers this attack as a terrorist act aimed at destroying civilian infrastructure.
According to him, there were neither operational nor damaged tanks on the territory of the Darnytsia Railcar Repair Plant, contrary to claims by the Russian Ministry of Defense.