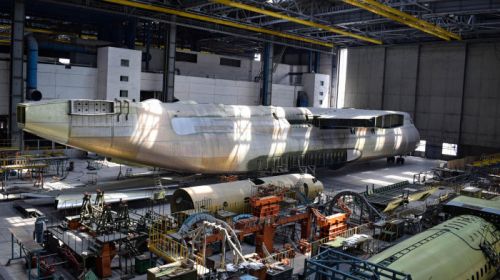 The Antonov aircraft manufacturing enterprise has denied a report by the German publication Bild that it is working to complete the second Antonov An-225 Mria strategic airlift cargo aircraft and that the work has reached 30% completion.
According to the state-owned enterprise, this is what its acting CEO Yevhen Havrylov actually said: "According to the expert assessment available, about 30% of the components that can be used for the second model of the aircraft are currently available," the CFTS portal reports.
Design work on the possible completion of the second aircraft has already begun.
"The estimated cost of building the plane is at least EUR 500 million. However, it is too early to talk about a specific amount," the enterprise said.
As reported earlier, Russian invading forces almost destroyed the only An-225 Mria aircraft in operation during an attempt to seize the airfield in Hostomel in February. The captain of the world's largest transport plane later accused the Antonov aircraft manufacturing enterprise's management of negligence, resulting in the failure to fly the An-225 aircraft out of Ukraine on the eve of the Russian invasion.