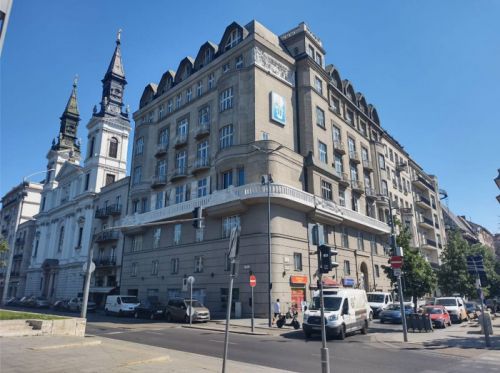 One of the foreign assets of the Ukrainian Danube Shipping Company (UDP) is a building on the embankment in Budapest. Hungarian dealers attempted to seize control of the building from the UDP immediately after the start of the Russian invasion of Ukraine, but they have not yet succeeded.
This was announced by the UDP's head Dmytro Moskalenko, the CFTS portal reports.
In particular, he explained that the UDP has been trying to sell the old building on the embankment in Budapest for 15 years. The UDP, its main agency in Hungary (GA UDP), and the Intelcom company concluded an agreement on the sale of the building for USD 8 million back in 2006. Over a long period, the parties signed certain additional and settlement agreements confirming the intention to complete the sale, but the money never arrived in the UDP's account.
Bokotey Janos was appointed as the director of GA UDP in Hungary in 2020. "In the first few days of the war, swindlers seized the moment and finally decided to act decisively. On 2 March, Bokotey amended the purchase agreement to grant permission to register the ownership rights to the building to the buyer. The final settlement was supposed to take place over four months. It is obvious that the asset will be resold ten times during this period, ultimately leaving the UDP with nothing. Bokotey did not inform the UDP's management or our ministry about the intention to amend the terms of the contract. The management of the Hungarian subsidiary companies was also silent," Moskalenko said, describing the situation.
According to him, the deal was revealed by the UDP's Hungarian lawyer, who informed the Ukrainian management about what was happening in Budapest.
After that, the Ukrainian Ministry of Infrastructure and the Ukrainian embassy in Hungary got involved in the dispute to support the UDP.
Realizing that the scheme involving the illegal registration of property rights had failed, the Hungarian fraudsters switched to the option of use of force, Moskalenko said. According to him, two dozen youths broke into the building. In response, the UDP deployed armed guards to regain control of the premises.
"The UDP retains control of the building, although the legal process is still continuing. However, we are gradually rolling back everything that the fraudsters did. The building will be appraised, and its real price is much higher. It is absolutely unprofitable for the UDP to sell the building for USD 8 million, a large part of which will be lost to taxes," he said.