The creation of UZ Cargo, the freight transport division of the Ukrainian Railways joint-stock company (Ukrzaliznytsia), is expected to be completed by July 2021.
Ukrzaliznytsia's Director of Commercial Operations and Logistics Irakli Ezugbaia announced this during the "Railways of Ukraine" international conference, the CFTS portal reports.
According to the plan for the creation of UZ Cargo that was presented at the international conference, the first heads of its business divisions will be appointed, its structure will be finalized, and the structure of and the personnel for its pilot projects (two branches and two railcar depots) will be approved in February.
The staffing table for UZ Cargo's pilot projects, its management staff, and the business processes for the pilot projects are scheduled to be approved in March-April.
The finalization of the necessary regulatory documents, the appointment of the heads of pilot branches and depots, the start of transfer of personnel to the pilot branches and freight depots, and the preparation of the structure and staff of other freight subdivisions (railcar depots and branches) are scheduled for the spring.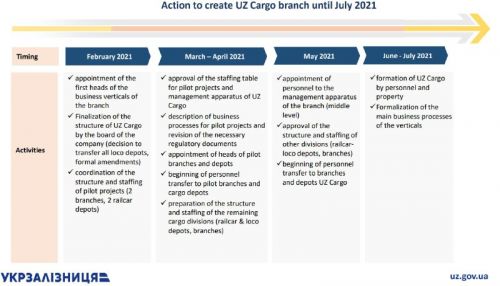 The appointment of the mid-level management personnel, the approval of the structure and staff of other subdivisions (carriage, locomotive depots, and branches), and the start of the transfer of personnel to UZ Cargo's branches and depots are scheduled for May.
The plans for June-July are to equip UZ Cargo with personnel and property, as well as to formalize the main business processes of its subdivisions.
As the CFTS portal reported, Ukrzaliznytsia approved a new organizational structure that complies with European standards in January. It also created the UZ Cargo freight transport division and the UZ Infra infrastructure division.
As reported previously, the separation of Ukrzaliznytsia's divisions into four independent businesses is scheduled to be completed by the end of 2021. In addition to the freight transport business, the future Ukrzaliznytsia holding company will include passenger, production, and infrastructure businesses. The main business will be the UZ Cargo freight carrier. The Liski Transport Service Center, the Refrigerated Wagon Company, and the Transport Logistics Center will provide additional functions. The other assets will be transferred to the infrastructure company.