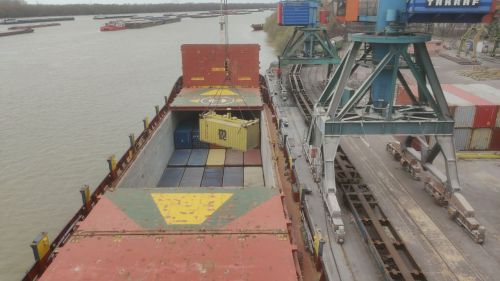 Ukrainian private companies Iteris and United Global Logistics have launched a new feeder container transport service between Ukraine and Romania together with the state-owned Izmail Commercial Seaport.
The T-Moon container ship delivered the first batch of containers from the Romanian port of Constanta (Romania) to Izmail on 14 March, the Iteris forwarding company told the CFTS portal.
The T-Moon vessel will call at the ports of Izmail and Constanta once a week on average. A round trip takes about 6–8 days and a one-way trip about 3–4 days, depending on weather conditions.
One container ship currently serves the new feeder route. "Further increase of the fleet on the line will depend on the volume of transportation," the press service of Iteris said.
The Constanta - Izmail feeder route is open to containers from all container lines. The T-Moon vessel can transport up to 170 containers (including 20- and 40-foot containers) and reef containers on a one-way trip. Containers can be delivered from the port of Izmail to other Ukrainian cities by road and rail.
As the CFTS portal reported previously, the Constanta - Izmail feeder service will operate simultaneously with the Constanta - Reni service, which was launched at the end of 2022.
As the CFTS portal also reported, Moller-Maersk, one of the world's largest container carriers, has resumed direct bookings to Ukraine from across the world. For this, the company has launched a new, weekly barge service from the port of Constanta to the port of Reni.