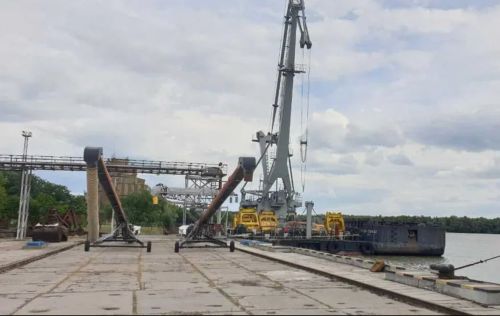 The State Property Fund has held the first auction for the privatization of port assets in Ukraine.
The privatization auction was for the port assets of the Ust-Danube Commercial Seaport.
The price of the asset rose to UAH 201 million from the starting price of UAH 60 million during the auction, which was held on the ProZorro auction platform on Tuesday, 17 January.
The highest bidder was Elixir Ukraine LLC, the founder and ultimate beneficial owner of which is Valery Vikhrenko, the former director of the Glencore Grain representative office.
Eight companies took part in the privatization auction.
"The auction is not the last phase of the privatization. The next phase is the signing of the bidding protocol, payment, the signing of a preliminary contract, if desired, and, finally, the signing of a notarized sale contract. All this could take up to two months of work," said Oleksandr Slavskyi, the head of the State Property Fund's regional division for the Odesa and Mykolaiv regions.
The Ust-Danube seaport was one of the first seaports to resume operation after the launch of the full-scale Russian invasion of Ukraine. It has handled 153,000 tons of export grain and 58,300 tons of imported consumer goods since 1 April.
The port has a design capacity of 4.1 million tons.
The port is currently operating at only 5% of its capacity.
As reported earlier, the State Property Fund offered three assets for sale: one in the city of Vylkove (Odesa region), one in the Kilia port station in the city of the same name, and a base for servicing special LASH vessels on Shabash Island. Loading and unloading operations are performed at the Kilia port station, which is located 54 kilometers from the Danube River. The rated water depth near the berth is 3 meters, but the actual depth is 1.5 meters.
The State Property Fund planned to privatize the state-owned port even before the war. for this purpose, an inventory of its assets was conducted at the end of 2021 and the lifting of an arrest on its watercraft was also considered.