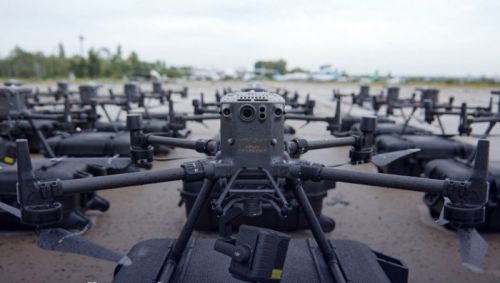 Four FlyEye reconnaissance drones and the first ground control station for them have been delivered to Ukraine through the "Drone Army" fundraising campaign, and they will be sent to the frontlines on 3 August to strengthen the Ukrainian Armed Forces.
The State Special Communications Service announced this in a statement, the CFTS portal reports.
According to the statement, more than UAH 751 million has been raised through the "Drone Army" fundraising campaign.
"Contracts for the purchase of two ground control stations and 20 FlyEye drones, 78 DJI Matrice multi-copters, as well as two ground control systems for 20 Warmate kamikaze attack drones, were concluded for UAH 260 million out of this amount," the statement.
These high-tech drones will help to track the actions of the enemy and change military strategies.
"We are now holding negotiations with Ukrainian and international manufacturers on the purchase of additional powerful drones," Ukraine's Deputy Prime Minister and Minister of Digital Transformation Mykhailo Fedorov said.
The FlyEye drones can reach speeds of up to 160 kilometers per hour. They can be hand-launched, which is a significant advantage because it is not always possible to start from a launcher. They are compatible with Western missile and artillery systems, which use automated fire control systems. This makes effective target acquisition possible.
The DJI Matrices multi-copters are powered by artificial intelligence, and their target-focusing thermal imagers can pinpoint potential threats. The Warmate kamikaze attack drones have a fully autonomous engagement system that works based on the fire-and-forget concept. This drone can be used against various types of targets: infantry, shelters, bunkers, or light hideouts.
"The State Special Communications Service is purchasing copters that will help our army resist the occupiers. Agreements have already been signed for the purchase of DJI Matrice drones, as well as FlyEye drones and their control stations. And this is just the beginning," the State Special Communications Service's head Yurii Schyhol said.
The "Drone Army" fundraising campaign has received donations from 74 countries through the United24 platform. The largest numbers of donations came from Ukraine, the United States, Canada, Great Britain, Germany, Ireland, France, Switzerland, Australia, and Israel.