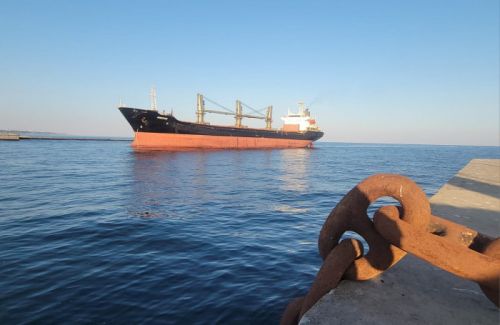 The bulk carriers Aroyat and Resilient Africa entered the port of Chornomorsk on Saturday, 16 September, to load grain. They are the first two vessels to enter one of the ports of Greater Odesa after Russia's withdrawal from the Black Sea Grain Initiative (grain deal) and the first to use the temporary Black Sea corridor that Ukraine created for ships traveling to its ports.
The ships were in the Black Sea port as of the morning of 18 September, the CFTS portal reports.
According to the Ukrainian Sea Ports Authority (USPA), 20,000 tons of wheat will be loaded onto the bulk carriers. These Ukrainian agricultural products will be delivered to countries in Africa and Asia.
"After the vessels that were stuck because of Russian aggression exited the ports of Odesa, Chornomorsk, and Pivdennyi through the temporary corridor, the bulk carriers Resilient Africa and Aroyat have confirmed their readiness to use the route to travel to the port of Chornomorsk... The vessels are flying the flag of Palau and their crews consist of citizens of Turkey, Azerbaijan, Egypt, and Ukraine," said Ukraine's Deputy Prime Minister for Reconstruction/Minister of Communities, Territories, and Infrastructure Oleksandr Kubrakov.
"Previously, the corridor, which was established by a Ukrainian Navy navigational order, was used to evacuate vessels that were in the Ukrainian ports of Chornomorsk, Odesa, and Pivdennyi at the time of the full-scale Russian invasion. Thus, five vessels have used the temporary corridor since 15 August: the container ship Joseph Schulte, the bulk carriers Primus, Anna-Theresa, Ocean Courtesy, and Puma," he added.