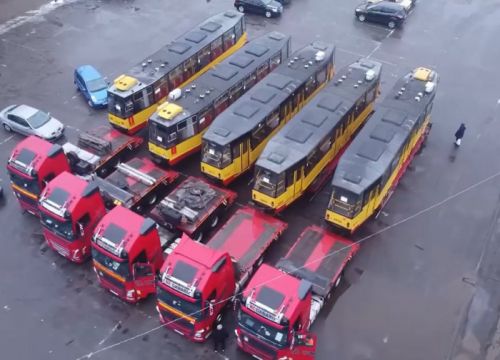 The first Konstal 105Na trams donated by Warsaw (Poland) arrived in Konotop at the end of last week.
Photographs showing the trailers carrying the trams near the Konotop railway station appeared on social media, the CFTS portal reports.
According to Konotop's Deputy Mayor Svitlana Samsonenko, six tramcars were delivered.
As reported earlier, the tramcars left Warsaw on 22 February.
The Konotop authorities recently appealed to the Warsaw tram authority to provide unneeded tramcars. The Warsaw tram authority selected 23 tramcars that are currently being withdrawn from service because of the delivery of new Hyundai tramcars.
The bogies of the tramcars will be converted to operate on 1520-mm-gauge tracks locally in Konotop.
"We already know how to adapt these cars to our tracks. The first car will be ready in 2–3 weeks," Konotop Mayor Artem Semenikhin said.