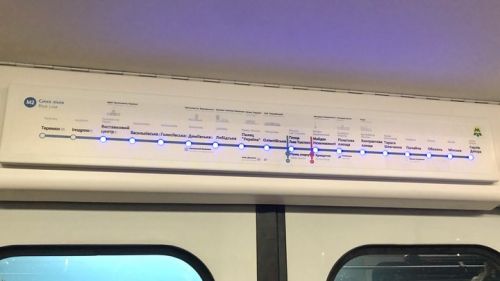 The Kyiv subway plans to introduce carriages with illuminated maps of the subway.
Kyivskyi Metropoliten, the municipal enterprise that operates the Kyiv subway, is currently considering the possibility of implementing this plan if funding is available, the CFTS portal reports, citing the Suspilne publication.
The Kyiv subway launched a "pilot" subway train with five carriages in 2021, with the Kyiv subway's route map illuminated above the entrances to the carriages. These are carriages of the models 81-717/714, which were manufactured from 1981 to 1984.
The illuminated route maps help hearing-impaired passengers and passengers wearing headphones follow the route.
Kyivskyi Metropoliten modernized this subway train with its own funds. It currently operates only on the Obolonsko-Teremkivska subway line.
"The company is currently considering the possibility of further modernization of its rolling stock, subject to the availability of funding for the work," the subway said.