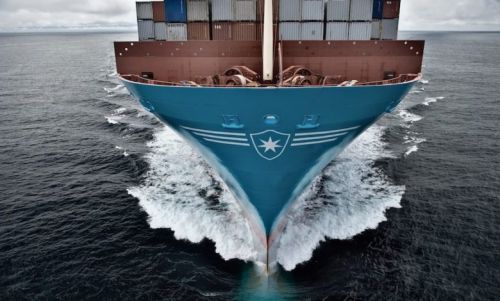 Moller-Maersk, one of the world's largest container carriers, has announced that it continues to monitor developments across Ukraine and that it is implementing solutions for its customers' cargo within the constraints of safety.
"Logistics operations in and around the country remain challenging, however, we are pleased to inform you that Maersk is now able to offer direct bookings to Ukraine from across the world – alleviating a frequent customer pain point over the past year," the company said in a statement dated 6 March, the CFTS portal reports.
To do so, the company said it has launched a new, weekly barge service from the Port of Constanța (Romania) to the Port of Reni (Ukraine). According to the statement, this service is now fully operational across two routes—via the Constanța/Danube Channel and the Black Sea—with a transit time of approximately 1.5 days.
"Booking will be subject to operational capacity and the correct documentation being submitted, which includes the legal acceptance of a Ukraine clause due to ongoing risk in the area," the company said in the statement.
As the CFTS portal reported earlier, the Viking Alliance container terminal began operation in the port of Reni in December 2022. On average, the terminal receives at least 150 inbound and 400 outbound containers per week. In some places, the figures exceed 200 and 550 containers, respectively. Feeder vessels and barges transport containers to the Romanian port of Constanța.
In addition, as the CFTS portal reported, a similar service is expected to launch between Constanța and Izmail in March.
Maersk stopped making ship calls to Ukraine in February last year.