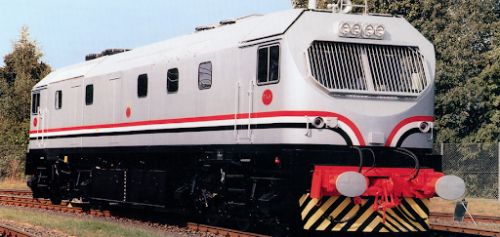 The Mykolaiv Diesel Locomotive Repair Plant intends to master the production of a new series of locomotives and diversify its market for repair and modernization of locomotives. The plant has signed a cooperation agreement on modernization of 55 AD Tranz locomotives with a company that officially represents the Egyptian Railways.
The plant announced this in a statement, the CFTS portal reports.
"The Mykolaiv Diesel Locomotive Repair Plant's entry into to the African continent can be considered accomplished today," the plant said in the statement.
According to the statement, the locomotives will be modernized at the plant's facilities in Mykolaiv and locomotive repair plants in Egypt.
"We will overhaul the diesel locomotives through the installation of new diesel engines, new power and auxiliary equipment, and new microprocessor control systems, which will significantly improve the economic performance of the locomotives and reduce the cost of servicing them," the plant's Director Serhii Roy said.
According to him, a long-term partnership is planned because the declared number of locomotives can be increased to 200 in the future.
According to the statement, future maintenance of the locomotives is envisaged in addition to their modernization, particularly the creation of a service center in Egypt, where representatives of the Mykolaiv Diesel Locomotive Repair Plant will service the locomotives.
The Egyptian locomotives were produced in 1996-2010, which means that they are "younger" than the locomotives operated in the post-Soviet countries, on which the plant previously worked.