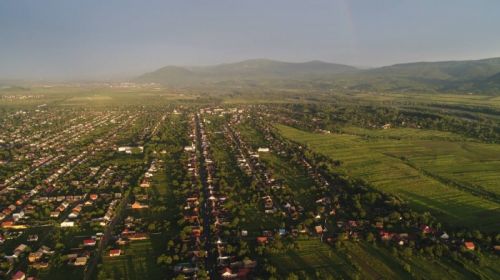 Photo: Pavlo Avdokushyn
Two sites for construction of a new airport in Zakarpattia (Mukacheve and Serednie) have been selected after a working group consisting of specialists from the Ministry of Infrastructure, the State Agency for Infrastructure Projects, the State Aviation Service, and the state-owned State Air Traffic Services Enterprise (UkSATSE) examined four potential sites (Khust, Ratovtsy, Serednie, and Mukacheve).
The head of the State Agency for Infrastructure Projects, Kyrylo Khomiakov, announced this today in his Telegram channel on 6 November, the CFTS portal reports.
"We have chosen Serednie and Mukacheve, which are places where the placement of a runway will be possible without those restrictions on the length and the possibility of take-off/landing that currently exist in Uzhhorod," Khomiakov said.
According to him, the first phase of the construction work (topographical land surveys to identify high-altitude obstacles) has now begun. The next phase is determination of the optimal location for the runway and design work.
As reported, then-Minister of Infrastructure Volodymyr Omelian came up with the idea of ​​building an airport in Mukacheve in 2018. The Leanka agricultural firm, the core operation of which is winemaking, proposed building an airport in Serednie. The firm has 1,200 hectares of land at its disposal, including 4.5 hectares of vineyards. The agricultural firm told the CFTS portal that it was ready to allocate 133 hectares of land for the airport.