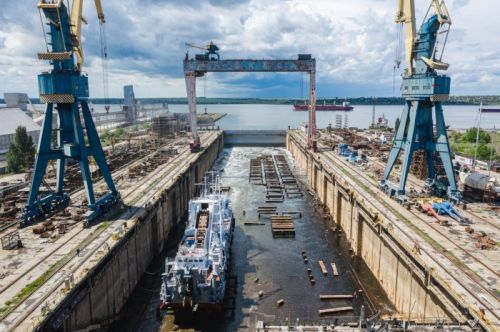 The Ocean shipyard has signed a memorandum with Turkey's State Defense Concern on joint implementation of a project for construction of a series of corvette-class vessels for the Ukrainian Naval Forces.
The Ocean shipyard announced this in a statement, the CFTS portal reports. According to the statement, the document was signed in pursuance of the Framework Military Agreement that was signed during a meeting of the presidents of Ukraine and Turkey in Ankara in October 2020 and the contract for construction of the corvettes that the two parties signed in Kyiv on December 14.
"In order to localize the corvette program, the Turkish State Defense Concern performed an audit of the technical capabilities of Ukrainian shipyards. The Ocean shipyard was selected and included in the corvette program, taking into account its unique technical capabilities, the availability of professional personnel, and the current program for modernization of its production assets," the shipyard said in the statement.
Without providing details, the shipyard said that the memorandum provides for conclusion of separate contracts between the parties and "cooperation steps within the framework of the corvette program."
As reported earlier, Ukraine began implementing the Corvette project (a project for construction of 10 corvette-class vessels) back in 2011. The "Volodymyr the Great" vessel was supposed to be the first corvette to be fully designed and built in post-independence Ukraine. However, the completion of its construction has been postponed repeatedly for various reasons.
A decision was made to resume the Corvette project in November 2017, when the government decree No. 879 extended the project until 2028. At the time, the plan was to build four such vessels at the total cost of almost UAH 32 billion. The "Volodymyr the Great," the keel for which was laid at the Black Sea shipyard (now called the SMG Mykolaiv shipyard), is currently about 20% complete and the project has essentially been frozen.