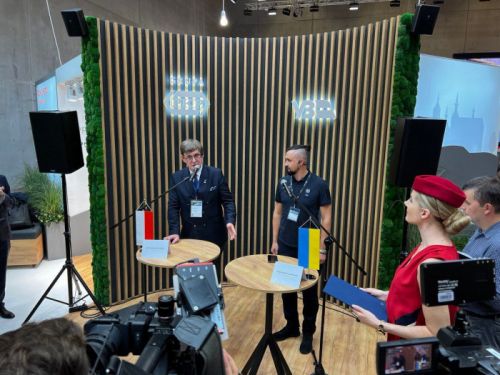 Polish State Railways (PKP S.A.) and the Ukrainian Railways joint-stock company (JSC Ukrzaliznytsia) signed a joint statement on development, continuation, and strengthening of cooperation to promote further development of economic relations between Poland and Ukraine at the InnoTrans railway exhibition in Berlin on 20 September.
In the joint statement, the companies expressed interest in continuing their beneficial cooperation on the development of the rail transport systems in both countries as an important part of Europe's transport system.
They also emphasized the importance of the structural changes taking place in the Polish and Ukrainian railway markets as a result of the ongoing military operations.
"PKP S.A. and JSC Ukrzaliznytsia emphasize the need for dialogue regarding decisions on the functioning of the railway market, institutional and organizational changes, as well as financing of rail transport," the statement said.
As part of the cooperation, the parties will hold periodic consultations on the development of rail transport and take measures to transform the railway systems of Poland and Ukraine.
They will focus on strengthening and developing active cooperation in all areas of rail transport between PKP and Ukrzaliznytsia, among other things.
"Recently, we have noticed increased interest in implementing investments on the Polish-Ukrainian border to create new infrastructure to increase the transportation of food products. These investments can stimulate economic growth in both Poland and Ukraine, as well as create new prospects for cooperation with PKP S.A. This is because the company manages real estate included in the logistics package. The interest from the market is already clear," said PKP S.A. CEO Krzysztof Mamiński.
"On 3 June 2022, the European Union made a historic decision to grant Ukraine the status of EU membership candidate. This means that we are accelerating the process of building sustainable relations with European companies. We are now increasing the capacity of our transshipment terminals, thanks to cooperation with the Polish side. However, most importantly, what we need now is to find the right vision for the future architecture of European railways. When thinking about this potential architecture, it is important to keep in mind that the Ukrainian and Polish railway infrastructure is over 40,000 kilometers of tracks connecting the Black and Baltic seas," Ukrzaliznytsia's head Oleksandr Kamyshin said.