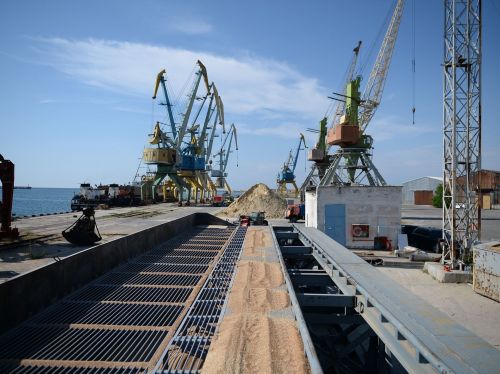 Seaports in the Russian-occupied Crimea handled 2.2 million tons of cargo from the beginning of 2023 to 23 October. This is seven times more than the volume they handled in the same period of 2022.
The so-called Crimean "minister of transport," the Russian-appointed Nikolai Lukashenko, announced this in a statement the day before, the CFTS portal reports.
"The increase in this indicator is mainly because of an increase in grain transshipment," he said.
It should be noted that only one factor can explain such a significant increase in the export of grain cargo through the ports of Crimea: the export of grain from the temporarily occupied territories of Ukraine by the Russians.
There have been numerous reports of such thefts in the past. In October, for example, the Russian ship Matros Shevchenko left Sevastopol loaded with grain illegally taken from the occupied territories. In August, the Syrian ship Finikia left Sevastopol with stolen grain. Ukraine asked Lebanon to prohibit the bulk carrier from docking in the port of Tripoli. During the summer, another Russian dry-cargo ship, the Alfa M, made at least five illegal calls at ports in occupied Crimea, from where it exported products stolen by Russians from Ukrainian territories.
As for the possible high harvest in Crimea, which could theoretically have led to this significant increase in the transshipment volumes, this version does not stand up to criticism. Although Russian propaganda reports a 40-year record grain harvest on the occupied peninsula in 2023 (which obviously includes the volume of stolen grain), the reported figure of 2.26 million tons of grain harvested this year is only slightly higher than last year's 2.1 million tons. So, there is no question of a sevenfold increase.
The only working version is that the Russians are massively exporting agricultural products from the occupied regions of Kherson, Zaporizhia, and possibly Donetsk.