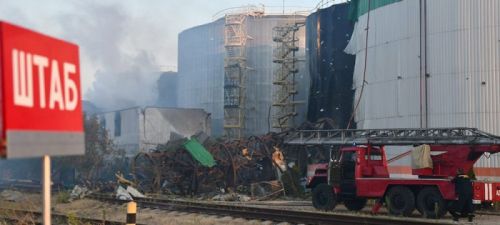 A fire at an oil transshipment terminal in the Mykolaiv seaport, which was caused by a Russian attack, was extinguished on the morning of 2 August.
The Ports of Ukraine publication reported this, citing the State Emergency Service, the CFTS portal reports.
"At around 5 a.m., when the Russians once again bombarded the city, rescuers were informed that the tank's insulation cladding and two two-story buildings located next to each other were on fire," the State Emergency Service said.
The fire was extinguished at about 07:50.
According to the Ports of Ukraine publication, the Russians struck the oil transshipment complex at the UPSS terminal.
As reported earlier, the Nibulon company's owner Oleksii Vadaturskyi was killed in an attack on Mykolaiv in the early hours of 31 July. The Office of the Prosecutor General is not ruling out the possibility that the Ukrainian businessman was targeted for murder.