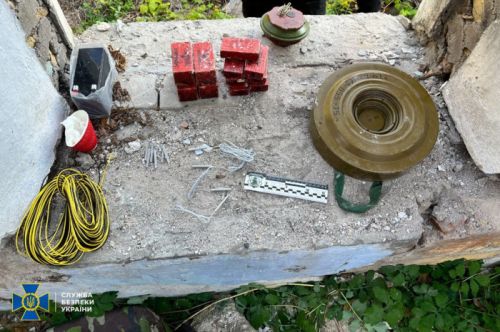 The counter-intelligence division of the Security Service of Ukraine (SBU) has announced that it has prevented a series of sabotages on the railway infrastructure in southern Ukraine, the CFTS portal reports.
"An agent of the Security Service of the Russian Federation (better known as the GRU) has been detained in the Odesa region as a result of a multi-stage special operation. Over 3 kg of TNT, an anti-tank mine, and detonators were seized from the detainee," the SBU said in a statement.
According to the statement, SBU officers established that the detainee was gathering intelligence on the transportation of military equipment, weapons, ammunition, fuel, and lubricants on certain sections of the Odesa railway.
According to the SBU, he is suspected of planning to transfer the information he gathered to the Russian military intelligence to be used for the planning of explosions on the Ukrainian defense forces' main logistics routes in the south.
"To perform his hostile task, the detainee set up two remote camera traps near a railway track in the suburbs of Odesa. These special devices allowed him to track the movement of rolling stock in real time and receive the relevant photographs via a mobile application," the SBU said.
According to the SBU, the Russian agent constantly changed his appearance and channels of communication with his Russian handler. He also used fake documents, including a Ukrainian passport.
SBU employees established the whereabouts of the detainee, documented his criminal acts, and detained him while setting up the device for remote monitoring of the rail transport route.