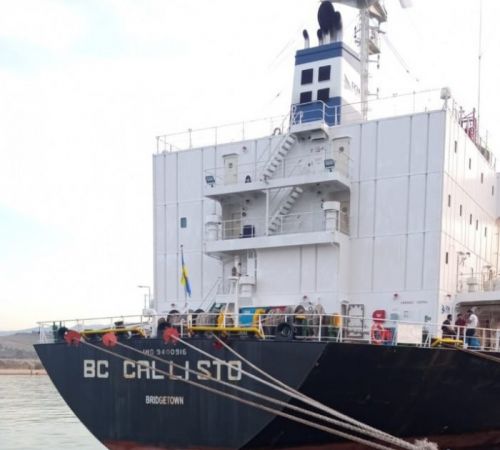 A second vessel carrying Ukrainian grain has arrived in Algeria under the Black Sea Grain Initiative that established a humanitarian maritime corridor to allow ships to export grain and other foodstuffs from Ukraine.
The Ukrainian Ministry of Infrastructure announced this in a statement, the CFTS portal reports.
The BC Callisto bulk carrier delivered 30,500 tons of food wheat to the African country.
The bulk carrier covered the distance from the port of Chornomorsk to the port of Algiers in 25 days.
Of these 25 days, the bulk carrier spent 14 days in the Bosporus awaiting inspection by the Joint Coordination Center.
"Our port services are doing everything possible to speed up cargo processing. For example, we loaded the BC Callisto in three days, but then the ship waited in the Bosporus for two weeks. There are more than a hundred such examples. The problem is the insufficient number of inspection teams. The UN and Turkey support the need to increase the number of inspectors because such a delay is a matter of both food security and navigational safety in the Bosporus," Ukraine's Deputy Minister of Infrastructure Yurii Vaskov said.
According to the Ukrainian Ministry of Infrastructure, 175 vessels are currently awaiting inspection in the Bosporus. "This artificial queue is because the Russians are blocking inspections and the implementation of the 'grain initiative' in particular. Consequently, Ukrainian ports are forced to operate at only 25-30% of their capacity," the ministry said.