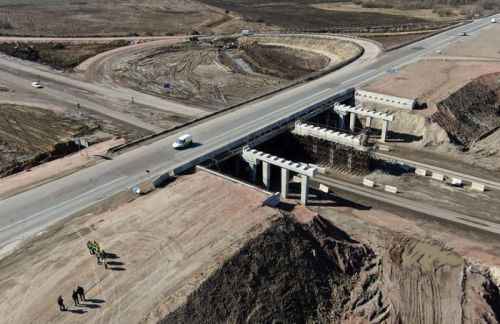 The Sinohydro hydropower engineering and construction company (China), which did not fulfill its obligations related to the construction of a Zhytomyr bypass road on the M-06 Kyiv-Chop Highway, appealed against the decision to terminate its contract with the State Automobile Road Service (Ukravtodor).
Ukravtodor announced this in a statement, the CFTS portal reports.
In October last year, Ukravtodor initiated the termination of its contract with Sinohydro, which was building the northern bypass road in Zhytomyr. The facility was financed with loans from the European Bank for Reconstruction and Development (EBRD) and the European Investment Bank (EIB).
"The construction work was scheduled for completion within two years, but the contractor completed only 50% of the work stipulated in the contract during this period and the allotted additional period. In addition, significant violations of the construction technology were committed during the performance of a significant part of the work, and the work was assessed to be defective and subject to re-performance," the statement said.
The Chinese contractor then filed a complaint with the Dispute Adjudication Board, a body designated in the terms of the contract.
Mahadeva Gopinath, an adjudicator at the International Federation of Consulting Engineers (FIDIC), decided that the termination of the contract by Ukravtodor was unlawful.
According to the decision, the EUR 10.3 million that Ukravtodor collected from the bank guarantees that Sinohydro provided in accordance with the terms of the contract must be returned to the company.
"Essentially, this decision completely shifted the responsibility for the contractor's inability to fulfill its contractual obligations onto the customer, which is Ukravtodor. The state road agency is preparing a formal appeal against the decision and an announcement of its intention to initiate arbitration," Ukravtodor said.
According to Ukravtodor, dispute adjudication boards are bodies for mediating conflicts between a contractor and a customer. The activities of the dispute adjudication boards are stipulated in FIDIC proformas, which Ukravtodor has used for a long time during the implementation of international projects.
"The contract stipulates that a representative of the Dispute Adjudication Board must regularly visit the construction site and personally familiarize himself with the state of affairs. However, Gopinath, who lives in the Republic of South Africa, has never been to Ukraine talk less of the construction site. This fact provides grounds to question the objectivity and impartiality of his decisions, as evidenced by the argumentation and content of the decision," Ukravtodor said.
According to the statement, Ukravtodor intends to publish the contents of the Dispute Adjudication Board's decision after its translation into Ukrainian.