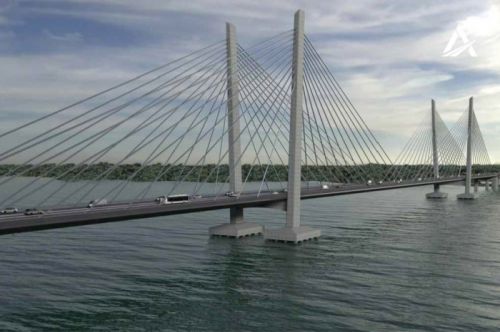 The Turkish company Dogus Insaat ve Ticaret A.S. has won the tender for construction of a cable-stayed bridge in Kremenchuk.
The State Road Service (Ukravtodor) announced this in a statement, the CFTS portal reports.
The company offered to design and build the bridge for UAH 11.2488 billion, resulting in savings of UAH 1.27 billion, Ukravtodor said.
The next step is to announce the winner of the tender and sign the relevant contract within the period stipulated by the law.
"The Kremenchuk Bridge should become a showcase project. It takes both modern international approaches to design and construction and the needs of domestic producers into account, since 95% of the materials will be Ukrainian," Ukravtodor's head Oleksandr Kubrakov said, commenting on the outcome of the tender.
According to the feasibility study for the project, the new bridge will be a cable-stayed bridge with four lanes (two in each direction). It will connect the H-08 Highway on the right bank of River Dnipro and the Kremenchuk road network on the left bank of the river. The project also involves construction of transport interchanges with a total length of over 3 kilometers.
The bridge itself will have a length of 1.7 kilometers. As previously reported, construction work is expected to begin in 2021 and be complete in three years.
The tender is based on the Design-Build project delivery system, which means that the design and construction of the bridge will be contracted to a single company.
The only bridge currently in operation in Kremenchuk is the Kriukovskyi Bridge, which is in a state of disrepair. Two national highways of importance to the region (the H-08 Boryspil-Dnipro-Zaporizhia highway and the M-22 Poltava-Alexandria highway) pass through this bridge. The nearest bridges that meet modern traffic requirements are located about 500 kilometers from the city.
Dogus Insaat Ve Ticaret A.S. was previously involved in the construction of Terminal D at the Boryspil international airport and the Darnytskyi Bridge in Kyiv.