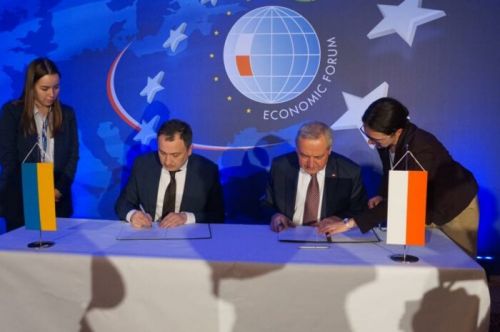 The Ukrainian Ministry of Agrarian Policy and Food , the Ukrainian Ministry of Infrastructure, the Polish Ministry of Agriculture and Rural Development, and the Polish Ministry of Infrastructure have concluded a quadrilateral memorandum on a project for the construction of a cross-border pipeline through which Ukrainian vegetable oil will be transported to the port of Gdansk.
A working group will soon be set up to determine the technical characteristics and the terms of construction of the pipeline and two terminals, the CFTS portal reports, citing the Ukrainian Ministry of Agriculture and Food.
According to the ministry, Ukrainian sunflower oil was exported to 107 countries before the war, and the largest customers were in Europe (37%), Southeast Asia (29%), and Asia (14.9%).
Before the start of the full-scale war, over 90% of this and other Ukrainian agricultural products were exported through Black Sea ports.
The Polish government recently stated that implementation of the memorandum would facilitate partial unblocking of Ukraine's exports, increase food security in developing countries threatened by hunger, and should consequently reduce the migration pressure on Europe.