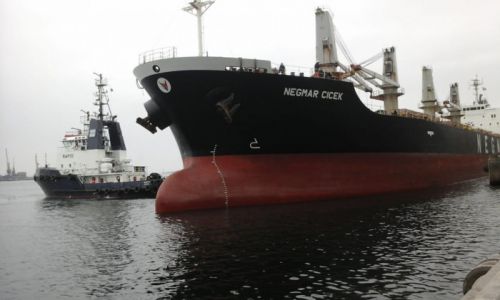 The Negmar Cicek bulk carrier, which moored in the port of Chornomorsk in the evening on 19 March, has already been loaded with 7,000 tons of wheat for shipment to Yemen. In total, 30,000 tons of Ukrainian humanitarian wheat will be shipped to the country.
The Ukrainian Ministry for Development of Communities, Territories, and Infrastructure announced this in a statement, the CFTS portal reports.
This is the sixth vessel to be loaded with agricultural products under the Grain from Ukraine program, which aims to provide Ukrainian wheat to "countries suffering from hunger."
In addition, 30,000 tons of Ukrainian wheat will be shipped to Ethiopia under the auspices of the United Nations World Food Program (WFP). The loading of the Deniz M bulk carrier has begun in the port of Odesa.
Donations from the governments of the United States, France, and Spain made the provision of this humanitarian wheat to Yemen possible. The most vulnerable African countries—Somalia, Ethiopia, and Kenya—have already received 140,000 tons of wheat under the program.
In total, three ships carrying 154,000 tons of agricultural products to Asia and Europe left the ports of Greater Odesa on 20 March 2023.
According to the statement, 828 ships carrying 25.1 million tons of Ukrainian agricultural products to countries in Asia, Europe, and Africa have left the ports of Greater Odesa since 1 August 2022.