In the first months of Russia's full-scale war against Ukraine, the main logistical tasks were evacuating civilians, delivering humanitarian goods and supporting the Armed Forces.
However, in order to continue to stand up to the aggressor, mitigate the blow to the economy and avoid a humanitarian disaster, it is critical to develop foreign trade and, therefore, export logistics.
Since due to Russia's blocking of Ukrainian ports, the railway took the brunt of the export, European partners must be made aware that today almost 100% of Ukrainian foreign trade depends on their position, decisions and readiness to ensure the transportation of Ukrainian goods.
From traditional cars to containers
Until 2014, the main trade partners of Ukraine were the CIS countries. Cargo was transported in box cars, gondola cars and grain hopper cars. The transport infrastructure was tooled for these types of rolling stock.
After 2014, Ukraine got more proactive in developing trade with Europe and Asia. These countries use multimodal transport as a common and convenient method of cargo delivery. And this became a big challenge since the main export goods for Ukraine are grain, sunflower oil, iron ore and metal. But technological advances and expertise allow transporting almost all of these cargoes in containers today.
Ports are the linchpin of Ukrainian export logistics
By the end of 2021, the main partners for Ukraine had become EU countries and, for example, China and India in Asia, which rely greatly on sea delivery.
In 2021, 153 million tons of cargo were transshipped through all ports of Ukraine. About 118 million tons were exported, and 24 million tons were imported.
Every month before the war, Ukrainian ports processed a total of almost 13 million tons of exported and imported cargo.
On the eve of the full-scale Russian invasion in February, Ukrainian ports were blocked by the fleet of the aggressor country. An agreement on a grain corridor was reached in August. In one and a half months, as of September 14, this allowed exporting over 3 million tons of agricultural products from Ukrainian ports.
This is a great achievement, but these figures cannot be compared with pre-war volumes. And there is also the question of how to export the remaining types of cargo.
A shock and a chance for the rail industry
Even if half of the cargo that was previously sent by sea were to be redirected to the western borders of Ukraine, it would mean handling 70 million tons. This is about 1.2 million rail cars or 3.3 million trucks. This is a big shock and burden on the border infrastructure. No one expected this or was prepared to solve such a problem.
Now the entire cargo flow has been rerouted to western land crossings, and Ukrainian companies are literally fighting to export each ton of cargo.
The railway became the main means of transport. And the first 6 months of the war showed that the European transport system and bureaucratic machine are unable to ensure the export of even a third of what is needed.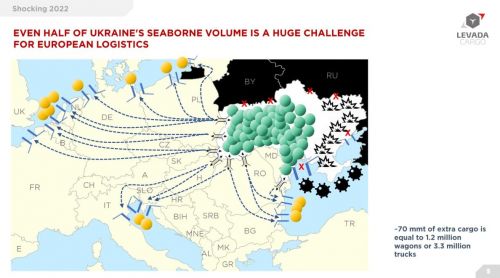 New challenges
What challenges did the logistics system face?
Firstly, the Ukraine/EU cross-border infrastructure is insufficient.
Secondly, the rolling stock (containers, fitting platforms) is insufficient both in Ukraine and in the EU.
Thirdly, the distance of transportation has increased.
For these reasons, the cost of cargo delivery has increased 4-5 times. As a result, a large number of businesses in Ukraine have been closing.
Today, everyone is talking about the importance of Ukrainian grain products on world markets. However, unless logistics are available again, there is a big risk that 30-40% of the fields will not be sown and will not yield a harvest!
This situation also highlighted other problems of the EU transport system, as even without Ukrainian cargo, the transport corridors are already on the verge of collapse. This year, many EU carriers have a record negative punctuality rate of less than 20%. Last year it was over 50%. There is a record number of cancelled trains as well. According to data for July, the share of cancelled trains in some large European carriers is up to 50%.
Solutions?
New border terminals, investments in European port infrastructure, additional cars and containers are needed to increase throughput. All this would require quite a large investment. But we need to understand that these transport corridors will still process significant traffic even after the end of the war.
In addition, European companies and the transport system should be interested in expanding "bottlenecks" and improving the transport system. The first six months of the war showed that the European system is not ready for even a small increase in cargo flow. The coming years will see a further process of integration of the Ukrainian transport system, particularly the railway, with the European one. Therefore, today's situation can be used to address the existing issues and prevent the transport system from collapsing in the future.
Simple steps to solve big problems
Levada Cargo's team conducted research on the main chains of transportation from Ukraine to Europe. We discovered simple solutions that do not require a large investment. For example, the system of quotas in EU ports for Ukrainian cargoes, quick passage of control procedures at the borders, increased coordination of the transportation process with EU countries, improvement of technological processes, etc. Such steps can have a significant effect on the increase in cross-border transportation.
The lack of equipment for the transportation of Ukrainian goods also needs to be addressed. This issue is connected, among other things, with the reluctance of European companies to send equipment to Ukraine for security reasons.
Our contribution
Unfortunately, Ukraine cannot overcome all logistical challenges on its own. However, today many companies are trying to develop new logistics. Thus, the Lemtrans Group, which includes Levada Cargo, together with its partners launched a container terminal on the border of Ukraine and Poland. The terminal in Mostyska has both wide and standard European gauges; there is equipment for working with any type of containers. We offer an alternative option with quality service ad improved logistics to the market. Now the capacity of the railway border crossing between Ukraine and Poland can be further increased.
We are constantly investing. Currently, Levada Cargo operates approximately 700 platforms and more than 1,000 containers for the transportation of various types of goods. We hope that with the launch of our terminal and the creation of regular services, European and international container operators will come to Ukraine.