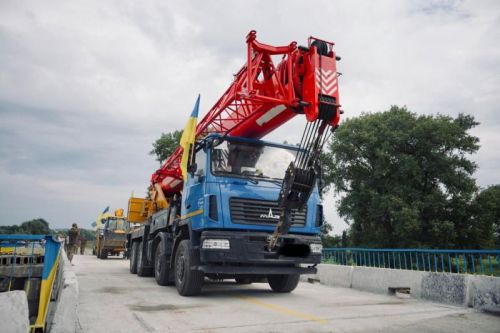 The State Road Agency (Ukravtodor) has reopened 50 bridges destroyed during the war to traffic.
Ukravtodor's deputy head Andrii Ivko announced this in a statement, the CFTS portal reports.
"In the Sumy region, the rebuilt bridge in the Konotop district has been reopened to traffic. Together with the State Special Transport Service, Ukravtodor has linked several districts in the border region with the help of reconstruction," he said.
According to Ivko, the bridge is the fiftieth artificial structure that Ukravtodor has reopened to traffic since the beginning of the full-scale Russian invasion of Ukraine.
"We built a bypass in some places and temporary crossings in other places. However, we are completely rebuilding the strategic facilities where the movement of freight vehicles is extremely important for the country's vital operations and there is no alternative. That was the case with the bridge in the Konotop region. From now on, passenger buses will begin running and farmers will be able to transport their harvests to places of storage and processing quickly," the deputy head of Ukravtodor said.
Ukravtodor is working in the de-occupied territories in the Kyiv, Chernihiv, Sumy, Kharkiv, Zhytomyr, and Mykolaiv regions, in particular.
Since the beginning of the war, 15 regions of Ukraine have suffered infrastructural destruction and Russia has inflicted UAH 958 billion worth of damages on Ukraine's road industry. Almost 25,000 kilometers of roads and 311 artificial structures have been damaged and destroyed.