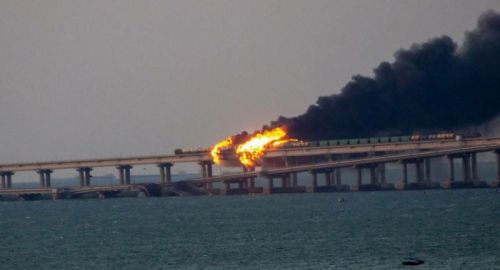 The Bulgarian counterintelligence service is investigating Russia's claims that the truck that blew up on the Crimean bridge came from Bulgaria.
The CFTS portal reported this, citing the European Pravda publication.
The investigation was launched on the instructions of acting Prime Minister Galab Donev immediately after the Kremlin made this information public.
The Bulgarian security services have also informed the Bulgarian prosecutor's office.
"The investigation is being conducted by the State Agency for National Security (SANS) and the Ministry of Internal Affairs," Bulgarian government spokesperson Anton Kutev said.
Russia said that the route of the truck that blew up on the Crimean bridge began in Bulgaria and passed through Georgia, Armenia, North Ossetia, and Krasnodar Krai.
However, the European Commission's spokesperson for foreign affairs and security policy Peter Stano said the claim was not credible.
"We have no way to see or know what happened on the bridge on Saturday that led to the blast. You know how it is with the credibility of any statements on the so-called investigations in Russia. I would not lend the slightest bit of credibility to what they are saying," he said.
According to Stano, Crimea is part of Ukraine and the Kerch bridge is an illegal structure.
Former Bulgarian prime minister Boyko Borisov, who won the last election and is trying to form a coalition government, described the term "Bulgarian trail" in the case as distasteful, explaining that it was impossible for the explosives to have been loaded in Bulgaria because there was no way the truck would have been able to cross the border.
"If I were in the position of the Russian services, I would be interested not in where the truck came from, but where it was loaded and what caused the explosion," Borissov said.
Former Bulgarian prime minister Kyril Petkov, who heads the Continue the Change party, called on the caretaker government to reject the Kremlin's insinuations about a Bulgarian link to the incident involving the Crimean bridge.
"We do not agree with the fear- and panic-mongering by the Kremlin and the linking of Bulgaria's name to the events related to the Crimean bridge. We call on the Bulgarian authorities and the caretaker government to investigate this case immediately and reject the Kremlin's insinuations about a Bulgarian link to this incident. Time is of importance," said Petkov.