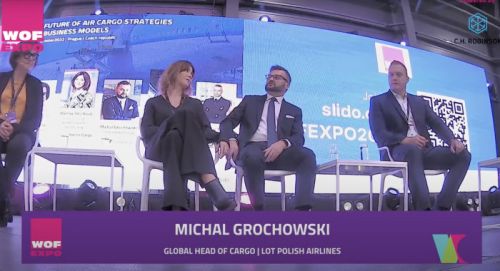 The rapid development of air cargo transportation prompted by the coronavirus pandemic is gradually leading to excess transport capacity on the market.
The participants in the WOF Expo forum, which is currently taking place in Prague, stated this during a panel discussion on aviation, the CFTS portal reports.
Martina Smolkova, Lufthansa Cargo AG's country manager for the Czech Republic and Slovakia, said that the company used both its cargo and passenger planes to transport cargo at the height of the pandemic, placing goods not only in cargo compartments but also in passenger cabins.
However, according to her, there is no need for investments in cargo transportation today.
"We have to have a reasonable transport capacity. It makes no sense to develop cargo capacity when there is a shortage of demand for it. We believe passenger planes will resume operation because people miss flying, and we have already seen that this summer," she said.
Michal Grochowski, global head of cargo at LOT Polish Airlines Warszawa, believes that those that invested too much in cargo fleets will incur losses and have difficulty finding work for their airplanes in the near future.
However, according to him, the final answer to the question whether it is necessary to continue developing air cargo transportation in the future depends on China, namely on the opening of the country to flights, and the extent to which airlines will be able to transport cargo in the baggage compartments of passenger airplanes.
"All the answers to questions about the future are now in China because this market is closed. It has its own situation. Everyone is just waiting. 40% of the global market cannot just disappear just like that. Everyone is waiting for it to open, and the answer will come. We will see what that answer will be," Grochowski said.
Jozsef Kossuth, head of cargo at the Budapest Airport, also said that a surplus of transport capacity will emerge in the next six months with the gradual return to the market of passenger lines from China and other Far Eastern countries with transportation of cargo in luggage compartments. According to him, the only segment in which air cargo transportation will remain competitive is the transportation of hazardous cargo, for example, lithium batteries.
According to Gergely Fonod, air and ocean manager at CEVA Logistics, shippers, on the contrary, are currently enjoying a situation in which cargo airlines are competing with passenger airlines, which are also offering space in their baggage compartments.