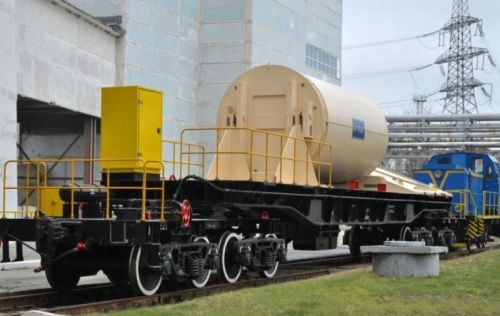 The Daugavpils Locomotive Repair Plant (Latvia), which is part of the Skinest Rail Corporation, has completed the implementation of contracts for the supply of transporter wagons for transporting spent nuclear fuel to the Energoatom nuclear power company (Ukraine).
The contracts, which were signed in 2016, 2018, and 2020, have all been implemented, the CFTS portal's correspondent reports from Latvia.
As reported earlier, five such wagons had been built at the Daugavpils Locomotive Repair Plant as of the end of the first half of 2020. Three of them were delivered to Ukraine in the same year.
According to information from the plant, all the eight wagons have now been delivered to Energoatom.
The transporter wagons are designed for transporting nuclear waste.
In particular, two models of the wagons were manufactured at the enterprise. The first model is a railroad flatcar with a turning frame for transporting HI-TRAC (Holtec International Transfer Cask) systems and auxiliary equipment. Three such flatcars were manufactured.
The second model is a railroad flatcar for transporting HI-STAR (Holtec International Storage, Transport & Repository) systems containing spent nuclear fuel. The flatcars are equipped with hydraulic stabilization systems at the loading point. Five of them were manufactured.
The first test operation of a special train with a transporter wagon took place on a railway stretch leading to the Chornobyl nuclear power plant on 29 July this year. The train traveled to the Central Storage Facility for Spent Nuclear Fuel (CSFSF) with a simulated container of spent nuclear fuel. It should be noted that spent nuclear fuel from the Rivne, Khmelnytskyi, and Southern Ukrainian nuclear power plants will be transported to the CSFSF in the Chornobyl exclusion zone through the reconstructed Vilcha-Yanov railway stretch.
As reported earlier, the Daugavpils locomotive repair plant was the first foreign company to receive permits from the Ukrainian Railways joint-stock company (Ukrzaliznytsia) for the repair of diesel locomotives. The Latvian plant plans to repair locomotives for Ukrzaliznytsia, and both companies are currently working on this.