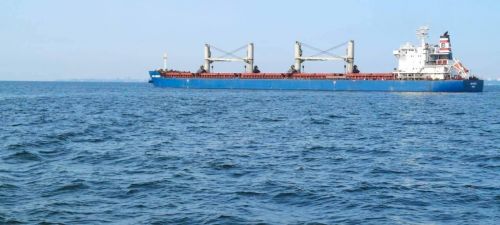 The Primus, Anna-Theresa, and Ocean Courtesy–the second, third, and fourth vessels to pass through the temporary corridor in the Black Sea–are carrying over 76,000 tons of rolled metal products produced by the Azovstal, Zaporizhstal, Kametstal, and ArcelorMittal Kryvyi Rih steel plants, as well as 172,000 tons of iron-ore concentrate produced by the Metinvest Group's ore mining and processing plants.
Metinvest said this in a statement, adding that the buyers had paid for these cargoes before the Russian invasion, the CFTS portal reports.
The company believes that the departure of these vessels from the ports of Odesa and Pivdennyi may lead to the possible unblocking of Ukraine's ports for the entire range of export goods in the future.
"This is a historic moment, the first step towards the full unblocking of maritime exports of the entire range of Ukrainian products: fertilizers, metals, ores, food, pipes, equipment, etc. And that will mean an accelerated recovery of Ukraine's economy, which has incurred enormous losses, particularly because of the illegal blockade of Ukrainian ports by Russia," said Oleksandr Vodoviz, the head of the Metinvest Group CEO's Project Office.
"Completely unblocking Ukraine's ports for the export of all types of cargo will not only help Ukraine regain its status as a maritime power but also bring tens of billions of dollars in additional foreign-exchange earnings into the Ukrainian economy every year, hundreds of billions of hryvnia in additional tax revenues into the state budget, and jobs and stable family income to hundreds of thousands of Ukrainians," he added.
According to the company, Ukrainian businesses managed to get the ships through the temporary corridor, thanks to the joint efforts of the Office of the President of Ukraine, the Ministry of Infrastructure, the Ukrainian Navy, and the other law enforcement agencies involved.
As previously reported, the corridor, which was established by a navigational order issued by the Ukrainian Navy, is primarily used to evacuate vessels that were in the Ukrainian ports of Chornomorsk, Odesa, and Pivdennyi at the time of the full-scale Russian invasion of Ukraine. However, it is reasonable to assume that the fact that these ships were the first to use this corridor does not mean that other ships cannot use it in the future.