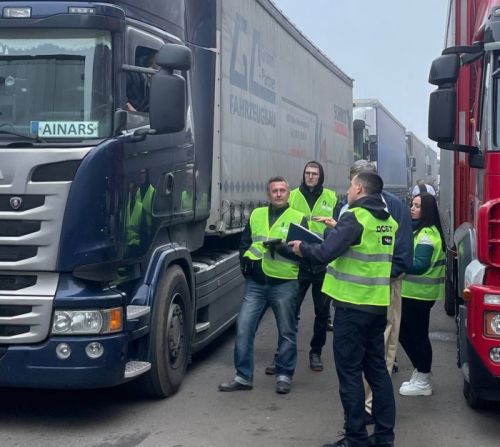 The "Electronic Border Crossing Queue" pilot project (the e-Queue project) for trucks will be launched at the Yahodyn-Dorohusk international automobile border crossing on the Ukrainian-Polish border on 12 December.
The Ukrainian Ministry of Infrastructure announced this in a statement, the CFTS portal reports.
The key task of the system is to calculate estimated border-crossing times.
"Given a predicted date and time of arrival at the Yahodyn - Dorohusk international automobile border crossing, a carrier can effectively plan a trip," the statement said.
The Yahodyn-Dorohusk international border crossing is considered one of the busiest border crossings. The line of trucks (710 trucks) leaving Ukraine was 12 kilometers long as of 09:00 on 5 December 2022.
No fee will be charged for using the system.
"Drivers will be able to register, sign up to join an electronic queue, and receive information about the approximate border-crossing time at any location without being tied to specific service zones. It will be possible to openly monitor the progress through the queue on the system's website," said Ukraine's Deputy Minister of Infrastructure Mustafa Nayem.
He added that the e-Queue system will not solve the problem of queues itself, but only regulates it. "The main reason for the queues is the low throughput capacity of the infrastructure at border crossings, which were not ready for such a flow of traffic following the blockade of our ports by the aggressor. However, our team is doing everything possible every day to address this situation," Nayem said.
The Ukrainian Ministry of Infrastructure is implementing the "Electronic Border Crossing Queue/e-Queue" project in cooperation with the Ministry of Digital Transformation, the State Transport Safety Service, the State Road Agency, the State Customs Service, and the State Border Service with the support of USAID.