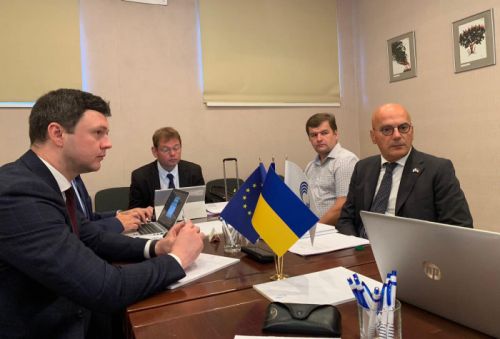 A team from the Network Management Board of the European Organization for the Safety of Air Navigation (Eurocontrol) has paid a working visit to Ukraine, where they met with representatives of the Ukrainian State Air Traffic Services Enterprise (UkSATSE).
As UkSATSE's head Andrii Yarmak announced this, the CFTS portal reports.
According to him, the two sides discussed the implementation of a plan for resumption of air navigation services in Ukraine's airspace.
"The key topics during the meeting were training of specialists in all operational areas during the war and maintaining their professional level; restoration of infrastructure and resumption of air navigation services; preparation of a flight safety assessment in the post-war period," Yarmak said.
A detailed action plan was to be prepared at the end of the meeting.
As reported earlier, Ukraine's minister of infrastructure and his British counterpart recently signed a joint action plan to help rebuild Ukraine's transport infrastructure. Under the joint action plan, British experts are expected to offer knowledge in airport, runway, and port reconstruction and work with the Ukrainian Ministry of Infrastructure to identify training opportunities for airport staff, air traffic controllers, and aviation security.