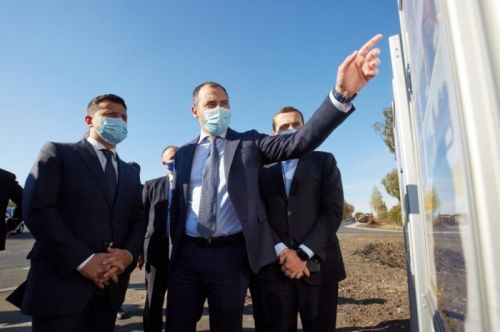 Ukraine's Minister of Infrastructure Oleksandr Kubrakov has outlined the priority issues that he intends to work on in the aviation, port, and railway industries in his new position, the CFTS portal reports.
"Using roads as an example, our team managed to prove that the Ukrainian government is capable of solving problems that have been accumulating over the years. My task is to also restore order in other industries," he said.
Railway
Kubrakov intends to first stabilize the financial position of the Ukrainian Railways joint-stock company (Ukrzaliznytsia). "It is necessary to review the company's costs – a preliminary analysis shows that there are things that need to be optimized – as well as the company's revenue," he said.
In addition, according to the minister of infrastructure, it is necessary to update the company's physical infrastructure. "Ukrzaliznytsia must win back its share of the freight transportation market that has been lost to road transport in recent years," Kubrakov said.
Aviation industry
The plans include construction of new and development of the existing airports, as well as development of the domestic air transport market. "There is a plan to create a network of regional airports, and there are plans to create a national air carrier," he said.
Maritime and river transport
The first priority is to rebuild the port infrastructure. "The state cannot but pay attention to this problem. Port dues should be spent on renewing the infrastructure of ports," the minister said.
There are also plans to hold concession tenders for ports. According to Kubrakov, Ukrainian ports are currently the most expensive and least comfortable, which leads to losses of transit cargoes.
"It is necessary to make the procedure for issuing passports to our sailors transparent. We urgently need to make this market civilized," he said.
Roads
According to the minister of infrastructure, almost 40% of Ukraine's major road network will be repaired in 2021.
"We have unfrozen and completed a dozen of long-term construction projects in various parts of the country: a bridge across the Khadzhibey Estuary, an unfinished construction project from 2004; a bridge in Marshyntsi, an unfinished construction project from 2009; the Burshtyn bridge, an unfinished construction project from 2006; bridges in Roztoki, unfinished construction projects from 2009," he said.
Ukrtransbezpeka
Firstly, the minister of infrastructure plans to launch an automatic weight monitoring system. In particular, the parliament's Infrastructure Development Committee backed the relevant bills on 19 May.
The State Transport Safety Service (Ukrtransbezpeka) will also be financed and staffed.
"All these issues are complex, and they will require complex solutions, new laws, and interaction among all branches of government," Kubrakov said.
As the CFTS reported, the Ukrainian parliament approved Kubrakov's candidacy for the post of Ukraine's minister of infrastructure at a session on 20 May.