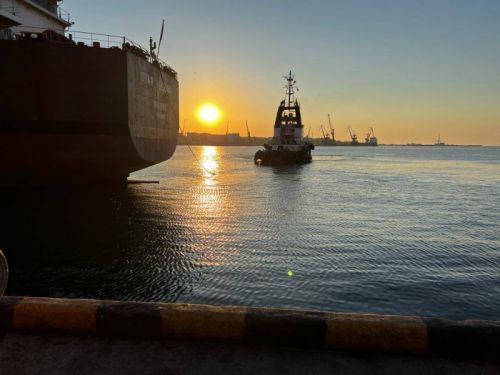 The Black Sea Grain Initiative's Joint Coordination Center (JCC) in Istanbul inspected only 71 ships traveling to the ports of Greater Odesa to load Ukrainian agricultural products in February. These are 17 fewer ships compared with January.
The Ukrainian Ministry for Development of Communities, Territories, and Infrastructure announced this in a statement, the CFTS portal reports.
According to the ministry, this negative dynamic is a consequence of Russia's systematic destructive policy aimed at hindering the inspection of ships in Turkish territorial waters.
The ministry said that all the parties to the JCC, including the Russian Federation, agreed that 9–12 inspections would be conducted per day. However, according to the ministry, Russian inspectors are not performing more than six inspections per day without explanation. Russian inspectors then stop working, making it impossible for Turkish, United Nations, and Ukrainian inspectors to continue working, the ministry said.
In addition, the stoppage of inspections after 3:30 p.m. has become systematic, although inspectors' official working day continues during daylight hours.
In addition, contrary to the JCC's procedures, Russia requires the inspection of ship documents that are unrelated to the subject of the inspection itself, thus prolonging the duration of a ship's inspection.
Therefore, only 149 inspections were conducted in February (173 in January) instead of the planned 296, and this negative trend is continuing in March.
In addition, according to the ministry, these Russian actions have resulted in a permanent pileup of ships (120–140 ships) and left Ukrainian ports with the problem of a shortage of new ships to load. Currently, 86 vessels heading to Ukrainian seaports for loading are awaiting inspection in Turkish territorial waters.
As reported earlier, the Russian Federation has announced that it is willing to extend the Black Sea Grain Initiative for only 60 days when it expires on 18 March.
Turkey's Minister of National Defense Hulusi Akar later said that his country has initiated negotiations on the extension of the Black Sea Grain Initiative for 120 days in accordance with the initial version of the agreement.
Ukraine's Deputy Minister of Development of Communities, Territories, and Infrastructure Yurii Vaskov has said that it is necessary to completely unblock shipping in the Black Sea. "The blocking commercial shipping, even in wartime, grossly violates the international conventions to which Ukraine is also a party. We once again call on the United Nations' International Maritime Organization, which is the guarantor of global shipping safety, to do everything possible to reopen the Black Sea to commercial shipping," Vaskov said.