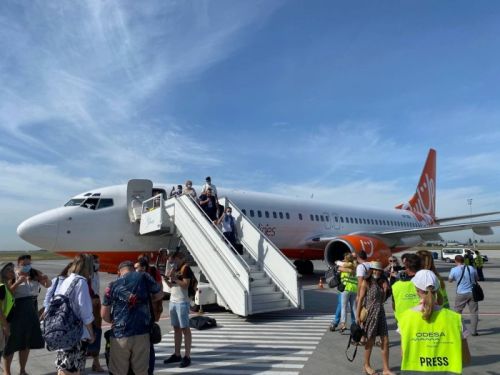 The new runway at the Odesa airport received its first flight at 09:00 on 16 July. Flight PQ107 Kyiv (Boryspil) – Odesa was operated by the Ukrainian airline, SkyUp Airlines.
This was reported by the CFTS correspondent, who was on board the Boeing 737-800 aircraft that landed in Odesa.
With the opening of this runway, which is certified as a category 3A runway by the ICAO, the airport becomes an "all-weather" airport, which means that it will be able to receive flights in almost any weather conditions.
The new runway will also allow the airport to receive wide-body aircraft, including Boeing 767 and Airbus A330 aircraft, as well as Boeing 777 and 787 aircraft in the future.
As reported previously, the airport did not receive flights for a day and a half to enable it to prepare the new runway to receive flights.
This is the first runway to be built in Ukraine in the past 10 years. The RD1 runway that was previously used for takeoffs and landings was built in 1961.
As reported earlier, the first flight arrived at the Odesa airport's new S apron, which has an area of ​​40,000 square meters and is located alongside the new terminal, in June. It has parking space for eight aircraft. Six of them are categorized as type C and two as type D under the ICAO classification. The new C3 taxiway, which connects the existing RD1 runway with the new apron, was opened at the same time as the new apron.