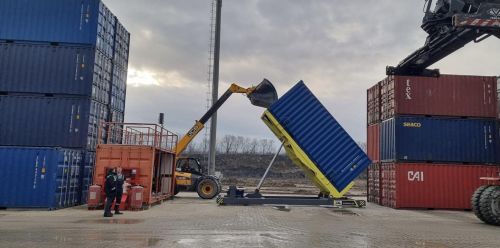 Container Terminal Mostyska's CEO Dmytro Kobzar announced this during a panel discussion on the topic "Grain storage: Problems and opportunities for development during the war and post-war period" at the "Grain Storage Forum: Elevator 2023," the CFTS portal reports.
"The Lemtrans group, which includes Levada Cargo, has launched the Mostyska terminal together with a partner. Broad- and European-gauge rail tracks have been laid along the terminal in Mostyska. A grain terminal has also been built, and there is equipment for handling all types of containers. We are offering the market an alternative and improved logistics," said the Lemtrans company, a private operator of railway rolling stock.
As reported earlier, the Mostyska container terminal was launched into operation in the summer of last year. Lemtrans and the Rail Trans Investment company invested in the project. The N'UNIT and Levada Cargo companies are partners in the development of a container business.
In addition, a grain terminal capable of processing 60,000 tons of grain every month was built within the framework of this project.