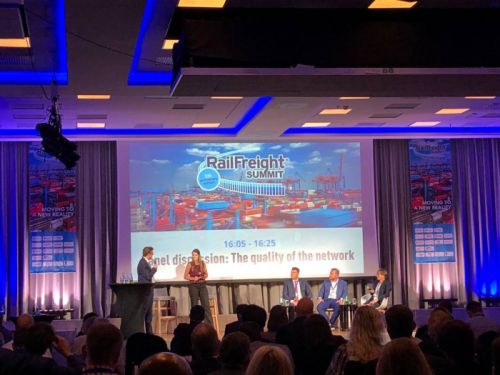 RailFreight Summit 2022 was held in Warsaw from 7 to 8 September. The topics of discussion at the forum included the problems of rail transport between Ukraine and the EU during the Russian military aggression against Ukraine.
The Levada Cargo company's CEO Volodymyr Demenko was one of the representatives from Ukraine at the event, which was held in the Polish capital, the CFTS portal reports.
While discussing Ukraine's current position in global and European supply chains, Demenko and the Laude Smart Intermodal company's head Marcin Witczak acknowledged the harsh reality that the railway cannot take on the responsibility of handling all Ukrainian exports, the Railfreight publication reports.
Demenko emphasized that "transporting even half of Ukraine's maritime volumes is an enormous challenge for European railway logistics." He added that overland "transport corridors are already on the verge of collapse" and that "Ukraine will not be able to export anything next year" if the problems are not solved by increasing maritime exports.
In addition, both experts emphasized that searching for long-term solutions for Ukraine's integration into European corridors without providing real technical support right now could turn out to be deceptive. According to them, support is ineffective without sending containers and equipment to Ukraine to facilitate cargo handling operations.
According to Demenko, the total shortage of rolling stock is one of Ukraine's main problems after terminal infrastructure. European companies are also afraid to send containers to Ukraine for security reasons, he said.
According to the speakers, logistics companies and European politicians should focus on implementing short-term solutions that will help solve real-time problems, such as the insufficient amount of equipment for transporting Ukrainian cargo.