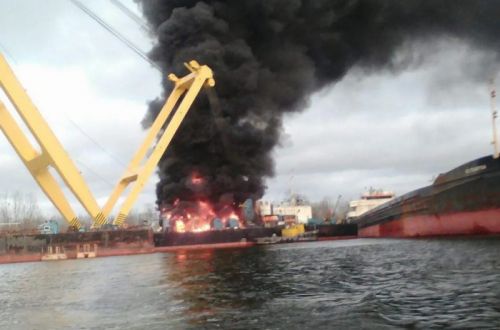 Russian occupation forces have struck the Lifting Chart LK-800 floating crane (also known as Zakharia), which is Europe's largest river floating crane in the compact crane class, in Kherson.
Transportation blogger Pavlo Avdokushin reported this, the CFTS portal reports.
"The Russian occupiers committed another act of barbarism on Monday, 12 December 2022. The Zakharia floating crane, which took part in the construction of the Zaporizhia mega-bridge in 2021, was attacked with mortars in Kherson," the blogger said.
According to him, the crane was in Kherson for repairs after participating in a project in Zaporizhia. It was supposed to be sent to Turkey in the spring. However, the Russian invasion prevented this.
"Before withdrawing their troops from Kherson, the Russian occupiers towed the crane and other vessels to the left bank of River Dnipro and left them there. Several mortar shots were fired at the crane from Russian positions on Monday under the supervision of enemy drones. The shelling stopped after three mortars hit the crane. It caught fire. According to preliminary information, all the equipment on the crane was burned, although it remained afloat as of Tuesday," Avdokushin said, citing information from Kherson residents.
The Zakharia crane was involved in the construction of the Podilsko-Voskresensky Bridge in Kyiv, where it performed a key role in the installation of the bridge's arch. However, the crane fell in November 2011 and was sent to the Ocean shipyard in Mykolaiv for repair. The repair was completed in spring 2014.
The ownership of the crane later changed, and it was used in projects in Turkey from 2017.
In January 2021, the floating crane returned to Ukraine, where it was involved in the completion of a bridge in Zaporizhia.