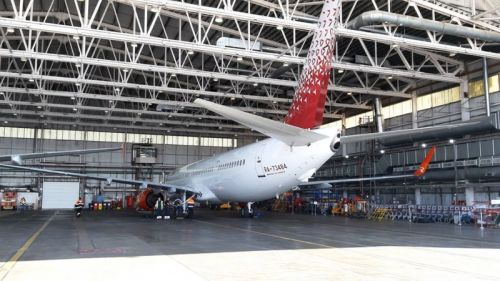 Russian airlines have been able to obtain USD 171 million worth of parts for foreign-made aircraft in 2023 despite Western sanctions, the CFTS portal reports, citing the Avianews publication.
Classified customs data obtained during an investigation made it possible to assess imports into Russia in real time.
According to the investigation, four major Russian airlines - Aeroflot, S7 Airlines, Rossiya, and Pobeda - have imported Western components worth USD 110 million for their aircraft in 2023.
Aeroflot imported spare parts worth USD 7.5 million, USD 4.5 million, and USD 2.5 million from the American companies Honeywell, Woodward, and Boeing, respectively, as well as spare parts worth USD 4.5 million from the French company Safran Nacelles.
S7 Airlines' subsidiary Globus imported a turbojet engine worth USD 7.5 million from the French-American company CFM International for its Airbus A320 family aircraft in March 2023. In the same month, S7 Airlines imported an engine worth USD 4.4 million from the U.S.-based General Electric for an Embraer E170 passenger plane.
This year, Pobeda has imported spare parts worth more than USD 3.5 million from Honeywell and more than USD 2 million from Rockwell Collins Inc. and Boeing. Rossiya Airlines has received Honeywell parts worth more than USD 6 million this year.
Russian airlines received components from Western manufacturers via China and the UAE. Some sanctioned spare parts for foreign-made aircraft were imported into Russia by a small company called Protector.
According to the investigation, it has imported aircraft parts worth at least USD 61 million this year. These include six aircraft engines for American-made Boeing 767 and Boeing 737 aircraft and European-made Airbus A320 aircraft. Protector received the parts with the help of companies based in the UAE and Thailand.
Although the Russian civil aviation industry is one of the industries worst affected by Western sanctions, it appears that Russian airlines have managed to solve the critical problem of spare-part shortages. The investigation showed that parallel imports allow them to import any parts, thus circumventing European and American sanctions.