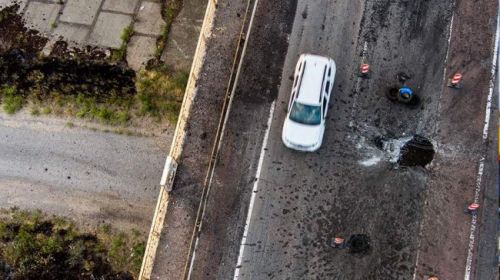 The Russian occupiers lack the technical documentation, experts, and equipment for quick repair of the Antonivskyi Bridge.
The Kherson regional council's first deputy head Yurii Sobolevskyi announced this, the CFTS portal reports, citing the Interfax Ukraine news agency.
"The bridge has been seriously damaged, and it is currently unsuitable for use even by passenger vehicles... The occupiers have problems obtaining technical documentation: they cannot access it to enable them to develop a plan for its repair. They also lack experts who can repair the bridge quickly and there is no equipment," he said.
As the CFTS portal reported, the Ukrainian Armed Forces struck the Antonivskyi Bridge in the temporarily occupied Kherson last night.
Natalia Humeniuk, the spokesperson for the Ukrainian Armed Forces' Southern Operational Command, said that the Ukrainian Armed Forces had all the enemy's strategically important logistical and transport arteries in the south, which are of critical importance for supplying Russian troops, under "fire control." According to her, the Ukrainian army is "destroying not the infrastructure but the enemy's plans" and the work of the Ukrainian Armed Forces' artillery units is "so delicate and jewel-like that it is more aimed at demoralizing the occupiers." "Strikes on the Antonivskyi Bridge were conducted, but they were filigree," Humeniuk said.
The Ukrainian Armed Forces also struck a Russian base near the Antonivskyi Bridge on 19 July. "There was a precise hit near ​​the Antonivskyi Bridge, namely between the bridges over River Dnipro and River Konka, near a bus station. There is a site there where the orcs have created very powerful fortifications, placed many weapons, and stationed a military unit that is providing security and manning a powerful checkpoint in the area between the bridges. There is currently a powerful explosion there," Serhii Khlan, an adviser to the head of the Kherson regional military administration said at the time.