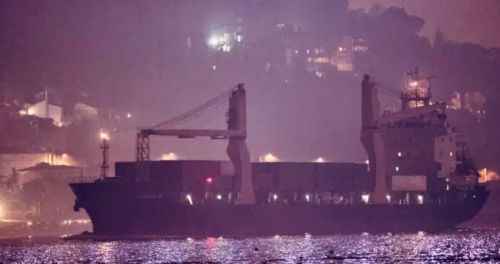 A Russian cargo ship slipped quietly into the Black Sea with a suspected load of war supplies for Russia's invasion of Ukraine. The ship, Sparta IV, was loaded in Syria and sailed with a Russian Navy escort. Although Turkey closed the waterway between the Mediterranean and the Black Sea to Russian warships, the flow of military supplies continues, Navalnews reports.
The Bosporus Straits, which run through Istanbul and are Turkish sovereign waters, is closed to warships due to the war in Ukraine. Russia is instead using auxiliaries and merchant vessels to move war supplies through the straits.
Naval News has seen evidence which indicates that this latest ship, MV Sparta IV, is carrying military vehicles and/or other war supplies. She is expected to unload in Novorossiysk, a base heavily involved in the Invasion of Ukraine.
Sparta IV is one of four ships owned by SC South LLC, a Russian shipping company which is involved in transporting military equipment. The company and the ship have been sanctioned by the U.S. Government under Specially Designated Nationals list (SDN) following the invasion of Ukraine.
Subsequent to Sparta IV was loaded in the Russian naval base at Tartus. The loading involved distinctive military vehicles, and the ship's large holds were opened during this time. As she sailed through the Bosporus she had a declared draught of 6.2 meters (20 feet) suggesting a heavy load. This is supported by the photographic evidence. Shipping containers have been placed on the deck but what is in them, or in the hold, is naturally not visible.
Prior to entering the Bosporus she was observed on March 1 2023 sailing in the Eastern Mediterranean, away from Tartus. She appeared to be escorted by a Russian Navy Project 20380 Steregushchiy class missile corvette. A naval escort reinforces the suspicion that she is carrying a sensitive cargo.
The movement is part of a pattern. MV Sparta IV is a related vessel to the one which shipped Russian S-300 air defense missiles in August 2022. That shipment, on Sparta II, also set off from Tartus in Syria and was delivered to Novorossiysk. Sparta IV has herself previously been noted conducting similar suspected arms shipments to Novorossiysk.